10 Essentials for Hiking and Camping
10 Essentials for Hiking and Camping
Whether you're just starting out or it's your hundredth time on the trail, making a list of everything you need to bring on a hiking trip is helpful. You may not end up using everything you brought, but you never know how important it is to pack the essentials until you really need something.
1. Dress for Success
Store all of your belongings on your back, so you can carry as many trekking poles or walking sticks as you please. Choose a backpack that has multiple compartments for an organized storage system, so you'll know exactly where to find something in an emergency. Since you'll be walking quite a bit, make sure you choose boots that offer proper support; opt for a higher-cut boot that wraps around the ankles to help keep you steady if you come across uneven terrain. Depending on the trail, consider whether your boots should be waterproof to keep your feet warm and dry.
shop all backpacking packs | hiking boots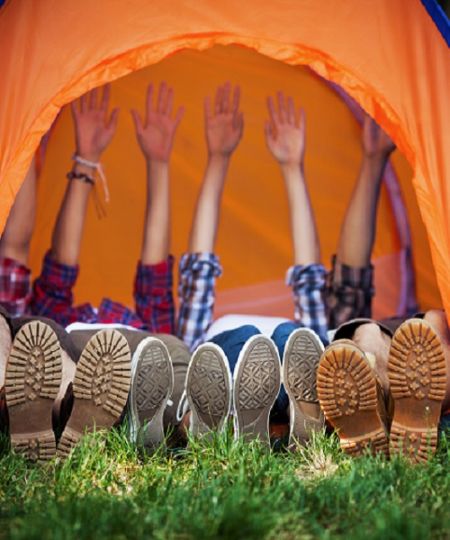 2. Navigation
Using GPS on a smartphone may seem like the easiest way to find your way around on the trail, but anything from poor cellular service to a dead battery could leave you high and dry. Be sure to pack maps, trail guides and a compass as a backup in case you get lost, and throw a portable charger in your backpack in case your phone dies.
shop all portable chargers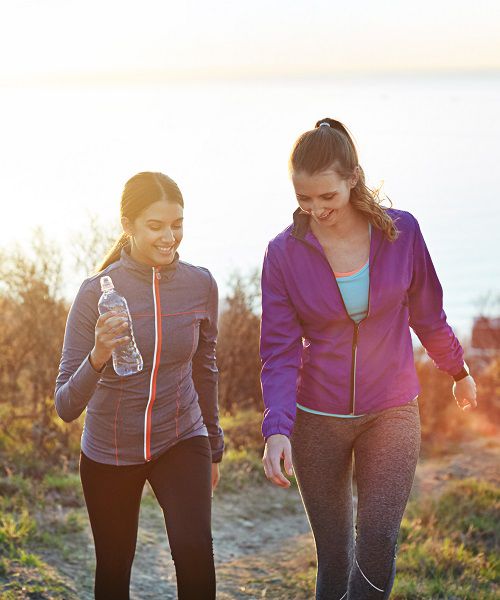 3. Hydrate While Hiking
Hydration packs offer convenient, hands-free hydration with ample room for plenty of drinking water. If you'd rather use a standard backpack, be sure to bring a big container of water to keep you properly hydrated on the trail. If you're hiking in the heat, opt for an insulated water bottle to keep its contents nice and cool. Some water containers come with a built-in filtration system allowing you to purify water you might come across while out hiking. If this isn't an option, consider bringing a small pot and heat source so you can boil water and filter it with a clean cloth or coffee filter.
shop all water bottles & carriers
4. Save Your Skin
Spending hours outside can easily make you lose track of time, and carrying a heavy backpack with sunburnt shoulders is no walk in the park. Spare your skin and liberally apply sweat-proof sunscreen every two hours. Even if you're hiking on a cloudy day or in the winter, the sun's powerful rays never take a day off.
shop all sunscreen
5. First Aid Supplies
While hiking is fun, it's always important to be prepared for anything. Pack a first aid kit with all of the essentials: bandages, surgical gloves, gauze, antibiotic ointment, rubbing alcohol and aspirin. If you're prone to sprains, be sure to pack athletic tape. Familiarize yourself with basic first aid practices before you set out, because the right gear won't help you if you don't know how to use it.
shop all first aid kits & supplies
6. Fire Starters
Nothing is as versatile as fire. A healthy fire will help you heat up camp, sterilize water or make dinner in one convenient place. But, you can't do any of these things if you don't know how to start one with sticks and stones. Pack waterproof matches or a lighter to easily start a fire with some kindling and wood. Be sure to pack multiple sets of matches, especially for those windy days when you might need to use several to get the fire started.
shop all fire starters & lighters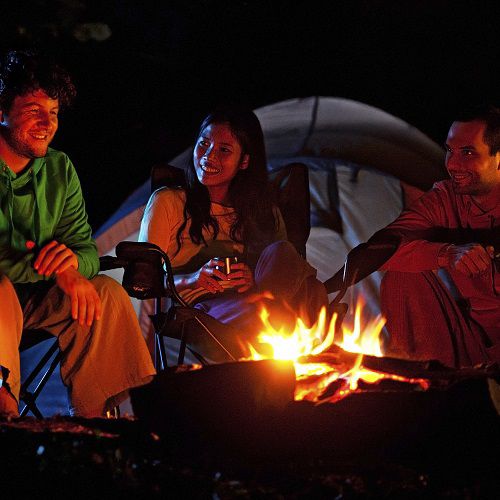 7. Energize Your Hike
Any number of things can keep you hiking longer than expected, like relaxing by a stream or photographing an overlook. To keep your energy and spirits high, pack nutrient-rich foods, especially nuts, fruits, sandwiches and trail mix.
shop all breakfast, energy & snack bars
8. Light Up Your Path
It can be easy to wander away from your intended path, or you might get distracted and lose track of time. Packing a light source in case you can't find your way back before nightfall is crucial. Whether it's a flashlight, headlight or lantern, something to make your path more visible at night will make all of the difference. If you're camping, lanterns are the most versatile, as they usually have adjustable brightness levels, run on propane or batteries and they can hang above from posts to provide overhead lighting. No matter what you bring along with you, make sure to pack extra batteries or fuel.
shop all flashlights & headlamps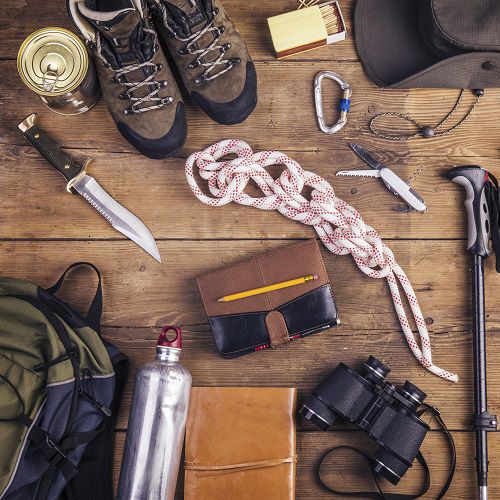 9. Pack a Versatile Knife
Each hiking trip is different, so you never know exactly what to expect. To be prepared for any situation, bring a pocket knife. From slicing up dinner to crafting bandages from an old t-shirt, pocket knives are built to assist you in many tricky situations.
shop all pocket knives
10. Ready for Repairs
If you're camping in between hikes, it's extremely important to bring along a repair kit and some basic tools in case any of your gear gets damaged throughout the day. Consider packing a multi-tool, duct tape and a miniature sewing kit to make the transition from daytime to nighttime a breeze.
shop all multi-tools
---
---
---