A Beginner's Guide to Buying a Bike
A Beginner's Guide to Buying a Bike



Riding down the road with the wind in your hair and sun on your skin is something everyone enjoys. The right bike will make each ride that much better. Whether you're shopping for your child's first bicycle or upgrading to a new one of yourself, there are many options available. We've put together a quick guide to show you all the different types of bikes and features to consider.

Road Bikes
Road bikes are built to excel on pavement. The combination of a lightweight frame, thin tires and a narrow seat allow you to ride faster and farther than most other bikes.
Benefits & Uses...
Ideal for racing - Road bikes traditionally come with smooth, high-pressure 700C wheels, which reduce friction on the road so you can travel more quickly. Frames on higher-end models are made of lighter materials, such as titanium or carbon fibers. The combination of lightweight frame and tall, thin wheels allows for excellent aerodynamics and a faster ride.
Perfect for distance - The sturdy construction of a road bike makes it durable enough to handle long distances. Traditional road bikes have drop handles, which allow riders to position themselves more upright or bent over the handlebars, depending on their comfort preference and need to minimize wind resistance.

shop all road bikes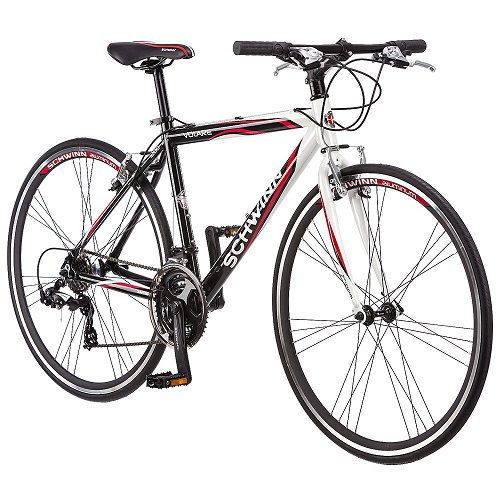 ---
Mountain Bikes
Mountain bikes are more rugged than both road and hybrid bikes and can take a beating on the trails. Their strong frames as well as their front and rear suspension are designed to help cushion the bumps of uneven and rocky ground.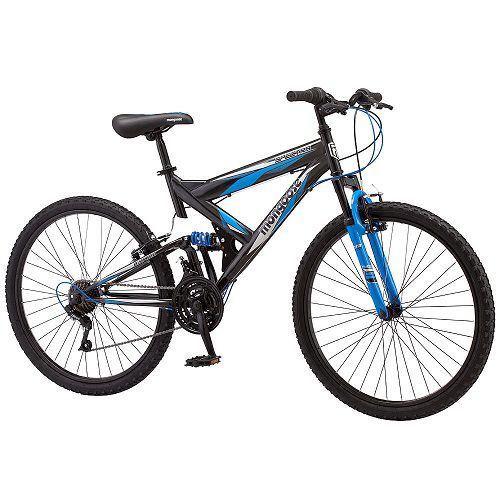 Benefits & Uses...
Off-road riding - Solid frame construction can stand up to trails, dirt roads and other rugged terrain. Flat handlebars and frame geometry allow riders to sit in an upright position and shift their weight as needed for better balance on varying terrains. A hardtail or full suspension helps to absorb the shock to provide you with a more comfortable ride.
Handling heavy loads - Knobby wheels handle bumpy roads and potholes with ease, so you can maintain control of your bike despite the road conditions. The sturdy frame accommodates saddle bags and bike racks and won't flinch under the weight of your groceries and other items you need to haul.

shop all mountain bikes
---
Hybrid Bikes
These general-purpose models combine features of road bikes and mountain bikes. Hybrid bikes are built for comfort rather than efficiency so they are best for leisurely rides.
Benefits & Uses...
Casual rides - This versatile bike is equally at home on pavement or off road and is perfect for leisurely rides around your neighborhood or around the town. The thick frame is usually made of steel or lightweight aluminum and is more upright like a mountain bike so you're more comfortable while you're pedaling.
Commuting - This is a good choice for those who ride their bikes to work need an option that can hold up to uneven pavement and potholes, while letting them get to their destination quickly. Like a mountain bike, a hybrid bike allows you to carry loads, but the hybrid is lighter. Its larger wheels won't slow you down and they provide excellent stability for your ride.

shop all hybrid bikes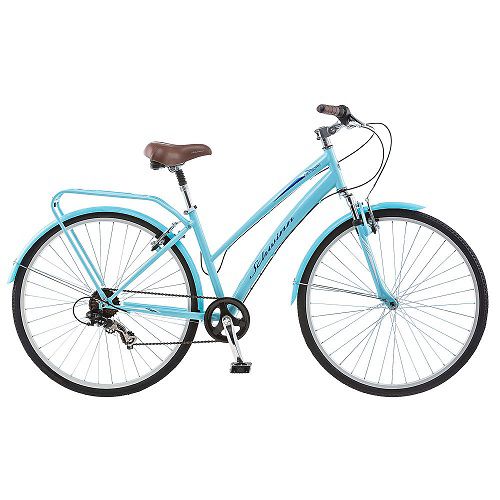 ---
Cruiser Bikes
Originally designed for a stroll along the beach, cruiser bikes keep that iconic vintage style in comfortable, modern engineering. Cruiser bikes come with long handlebars, a long wheelbase and a well-cushioned seat to keep you in an upright position.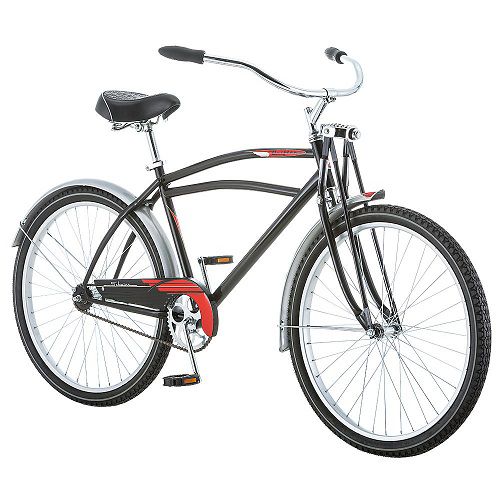 Benefits & Uses...
A leisurely stroll - Where mountain bikes might excel on multiple terrains, cruiser bikes work best on flatter ground. The single-speed drivetrain gives you a consistently smooth ride and, it's easy to maintain so you'll spend less money on repairs.
Eye-catching look - These iconic bikes have been turning heads since the 1950s, but where other bike types are taken more seriously, the cruiser bike is customizable. Some choose to go with eye-catching colors while others include handlebar ribbons and front baskets.

shop all cruiser bikes
---
Fixed-Gear Bikes
Also known as a "fixie," fixed-gear bikes feature a single-speed drivetrain with no freewheel mechanism. Without all the extra parts found in other bikes, these options are lightweight and easy to maneuver.
Benefits & Uses...
Urban riding - These bicycles are popular due to their lightweight construction and brakeless design. Many riders believe they're better for riding in wet conditions as the transmission has better feedback with the back tire grip.
Bike better - Similar to cars with manual transmission, fixed gear bikes are more mechanically efficient and effective when used properly than standard drivetrain bikes with freewheels. Over time, riding these types of bikes will teach you proper pedaling cadence for greater performance.


shop all fixed-gear bikes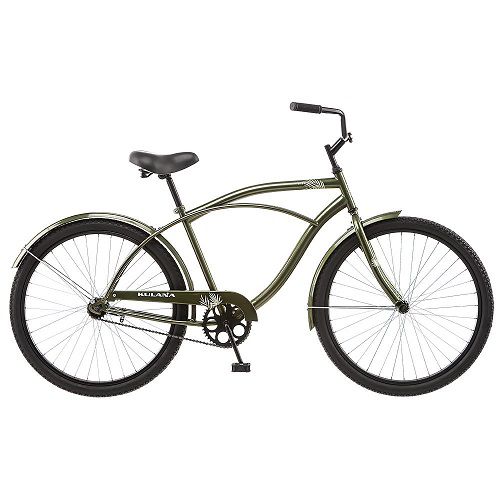 ---
Structural Features of Bikes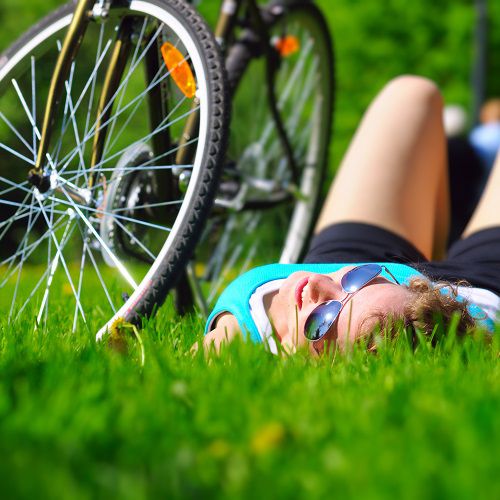 Frames - Bike frames are available in a variety of materials, including steel, aluminum and carbon.
Upright handlebars - Mountain and hybrid models have flat handlebars for a more upright riding position.
Drop/pursuit handlebars - Road bikes typically have drop handlebars so the rider is bent forward to create better aerodynamics.
Road wheels - Road tires are usually tall and thin to minimize road friction
Mountain wheels - Mountain and hybrid bikes have smaller, wider wheels designed to better grip uneven terrain.
Shocks - Shock absorbers, which are common on mountain bikes and hybrid bikes, can cushion your ride, but may add extra weight.
---
Essential Bike Accessories

Bike helmets - Helmets help protect your head from unexpected falls and are available in youth and adult sizes.
Pads - This protective gear helps shield your elbows and knees in case you fall.
Bike reflectors - Bike lights and reflectors are vital when riding in the dark. These not only light up a dark path, but they also keep you visible to others.
Bicycle safety vests - Bicycle safety vests are usually made of neon or reflective materials so you can be seen when riding in the dark.
Bike locks - The latest locks are available in padlock and lock-and-key designs to keep your bicycle secure when not in use.
Bike pumps - In case you get a flat, you should have a small pump handy in your garage or bike basket.

shop all bike accessories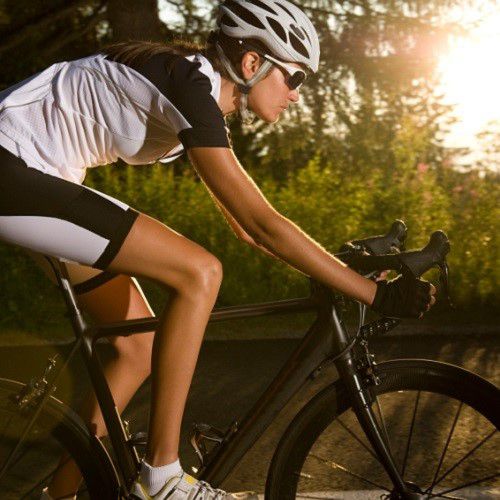 ---
---
---