Cycle Showdown: Mountain Bikes vs. Road Bikes vs. Hybrid Bikes


When you're looking for a new bike, one of the most important things to consider is how you'll be using it. A bike that's effective for commuting may not be the best choice for tackling rugged mountain trails. Depending on your purpose, you may prefer a road bike, a mountain bike or a hybrid bike. Each type of bicycle has unique benefits and is geared toward a different type of ride.

Cycle Showdown: Mountain Bikes vs. Road Bikes vs. Hybrid Bikes
| | | | |
| --- | --- | --- | --- |
| | Road Bike | Mountain Bike | Hybrid Bike |
| Ideal Terrain | Smooth pavement | Off-road environment | Pavement or off road |
| Weight | Lightweight | Heaviest | Moderate |
| Performance | Best for long distances | Suited to rugged terrain | Best for casual rides |
| Handlebars | Drop or flat bars | Flat bars | Flat bars |
| Suspension | Typically none | Fully rigid or hardtail | Suspension forks or seatposts |
---
Advantages of Road Bikes
Lightweight Frame – Less weight allows for a faster ride.
Tall, Lightweight Wheels – High-pressure wheels are narrow and light to reduce friction with the road and improve climbing, acceleration and handling.
Handlebars – Drop handlebars create a forward-leaning position that enables better aerodynamics, while flat handlebars allow for a more comfortable upright position.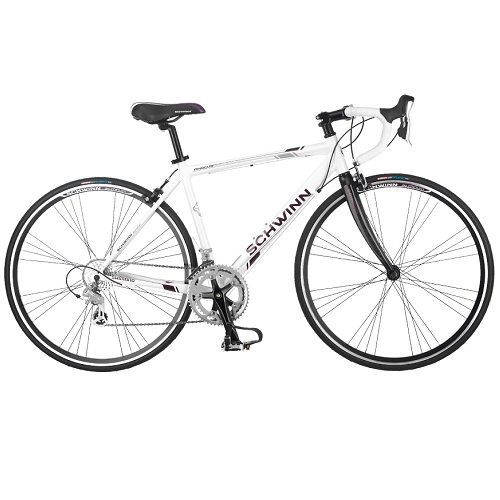 Limitations of Road Bikes
No Suspension – There's nothing to cushion the blow of bumpy terrain.
Thin Tires – The thin tires of road bikes are best suited for paved surfaces and are not constructed to handle the rigors of off-road riding.
Discomfort – While it may be more aerodynamic, some find the forward-leaning position uncomfortable.
---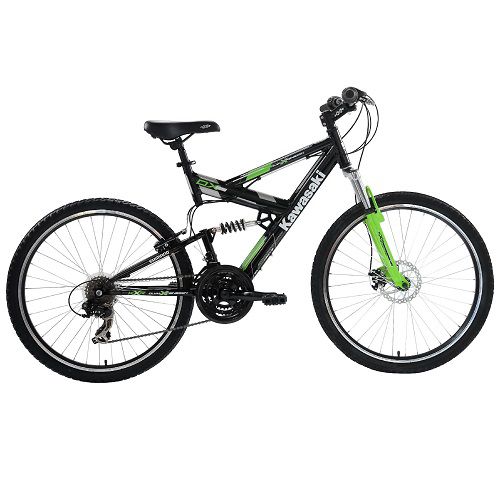 Advantages of Mountain Bikes
Sturdy Frame – The heavyweight frame is designed to withstand effects of rough terrain.
Suspension – Fully rigid bikes provide no suspension, while hardtail models have front-wheel fork suspension only. Full suspension options include both front and rear suspension. Each provides a different level of comfort to provide more control and reduce hand and arm fatigue.
Smaller Wheels – Thick, low-pressure tires are generally 26 inches to 29 inches with knobby treads to provide traction and control on uneven and rocky ground.

Limitations of Mountain Bikes
Knobby Wheels – Tread designed to create friction on rugged surfaces are less efficient on pavement.
Bike Weight – Added weight makes mountain bikes heavier and slower than road bikes and hybrid bikes.
Reduced Efficiency – Suspensions take away from the efficiency of pedal strokes.
---
Advantages of Hybrid Bikes
Versatility – Combining features of road bikes and mountain bikes, hybrid bikes are well suited for a variety of terrains.
Comfort – Upright handlebars, cushioned seats and available suspension can offer more comfort for short, casual rides.
Efficient Wheels – Wheels and tires are light and suited to paved surfaces, allowing for more efficient pedaling.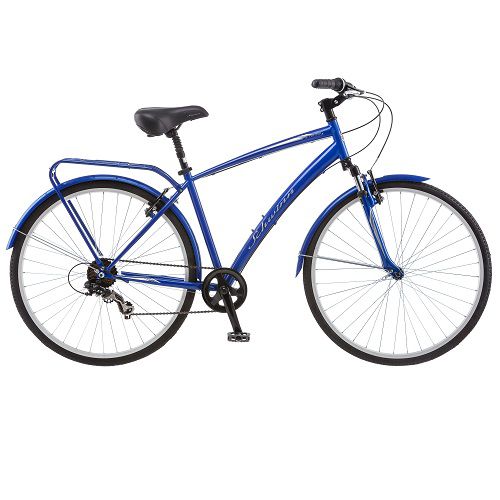 Limitations of Hybrid Bikes
Not Built for Extremes – Construction is not suited for tough mountain terrain or the fast speeds of road racing.
Less Aerodynamic – The upright position of hybrid bikes creates more drag when traveling at faster speeds.
---
---
---