A Beginner's Guide to Buying New Bath Towels
A Beginner's Guide to Buying New Bath Towels
Whether you're looking to outfit a bathroom in a new home or apartment for the first time or just want to freshen up a dated space, the right collection of bathroom towels can add comfort and style to one of the most-used rooms in your house. Comprehensive bathroom towel sets can help you quickly and easily furnish everything from the towel bar to the floor outside the shower, while individual pieces are great for customizing the look and feel of each surface and rack individually. Learn more about the sizes and fabrics available to build the bathroom of your dreams.

Common Types of Towel Fabric
Egyptian cotton - This type of cotton is typically grown in Egypt. The plant produces thin, fine plant fibers that allow for a stronger, denser weave with a softer feel than other types of cotton. Because of its shape, the thread count for an Egyptian cotton textile can be much higher than other cottons. Towels made from this type of material tend to last longer than most other fabrics through repeat washings, ironings and use over time.


Ring spun cotton - Ring spun cotton has a softer texture than standard cotton material, and it's made by thinning and twisting cotton strands to form a fine yarn. This twisting process allows natural cotton hairs to stand out, making a stronger weave with a finer thread than standard cotton.


Pima cotton - Also called premium cotton, Pima can be grown in more regions than Egyptian cotton, but it's made from the same plant. The plant produces an extra-long staple cotton that is soft, long and durable for towels and other textiles.


Turkish cotton - This type of cotton originates from Turkey. It has a long staple fiber and soft feel, but it's not as heavy or absorbent as Egyptian cotton. This means that Turkish cotton normally dries faster and can be a good choice for those who want a more lightweight fabric for a gym bag or humid climate.


Hydro cotton - Hydro cotton is made by a particular weaving process that results in untwisted yarn to create more surface area to dry off with after bathing. The fabric softness usually increases over time as you use and rewash the towels. Using too much fabric softener can reduce its overall absorbency.


Microfiber - Microfiber fabric is made from super-fine thread with an interlocking weave, which gives it a soft texture and allows the material to wick moisture effectively. This type of fabric also dries quickly and is typically rather lightweight.


Bath Towels
Bath towels are great for everyday use after bathing or a workout since their size generally provides enough coverage for most people.
Absorb lots of moisture - These are typically the thickest types of towels because they're designed to absorb water and sweat. Bath towels are available in a wide variety of fabrics, colors and designs to decorate your space.
Standard size - Bath towels generally range from 27" x 52" to 30" x 58".
shop all bath towels
---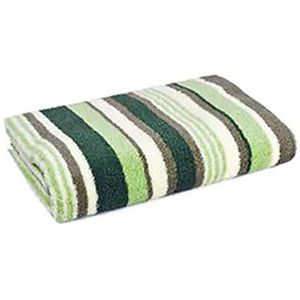 Bath Sheets
These towels are perfect for quickly drying off and staying warm after bathing, or for big and tall individuals who find that standard sizes don't provide enough coverage.
Luxurious feeling - Bath sheets are a more luxurious alternative than standard bath towels due to their larger size and weight.
Standard size - Bath sheets are commonly 35" x 60".

shop all bath sheets
---
Hand Towels
Hand towels are typically used for drying off hands after washing, and can usually be seen hanging next to a sink in a bathroom.
Designed for a towel rack - Since they may be used frequently, hanging these towels properly will allow them to dry faster.
Standard size - Most hand towels are 16" x 28."


shop all bathroom hand towels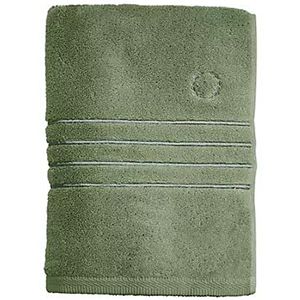 ---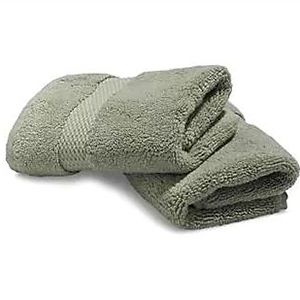 Washcloths
Washcloths are square-shaped towels that are smaller in size and weight, and are typically used to gently cleanse and exfoliate skin in the bath or shower.
Reusable - Using a washcloth can be cleaner than a loofah or sponge because you can wash the cloth and reuse it again and again.
Standard size - Washcloths are available in 13" x 13" or smaller sizes.
shop all washcloths
---
Fingertip Towels
These towels are designed for drying off hands and fingertips. They have a rectangular shape that is slightly smaller than a hand towel, yet larger than a washcloth.
Stylish accent - Fingertip towels not only dry off your hands, but they also add a chic touch to any bathroom. Consider folding them artfully next to the sink, and look for designs featuring decorative trimming or embroidery that fits your space.
Standard size - Most of these towels are 11" x 18".
shop all fingertip towels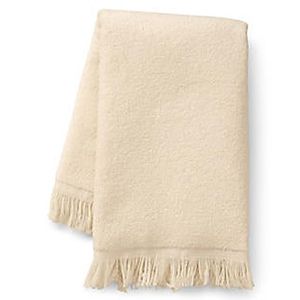 ---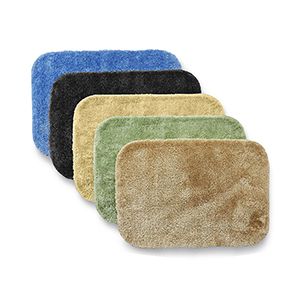 Bath Mats
Bath mats are absorbent rugs placed next to the shower or sink in a bathroom to soak up water that drips onto the floor.
Protects your bathroom floor - You can easily protect your floor from water damage with a properly placed bath mat as you exit the bath or shower.
Standard sizes - The sizes and shapes of these towels vary greatly.
shop all bath mats
---
---
---