A Beginner's Guide to Buying Bed Sheets
A Beginner's Guide to Buying New Bed Sheets
The sheets you use can make a difference between a good night's sleep and a great night's sleep. These essential pieces of bedding are an investment that can last for many years, so it's important to find sets that are attractive, easy to care for and, most of all, soft and comfortable. Before you decide which ones fit your bed best, here are some different types of bed sheets and factors to consider.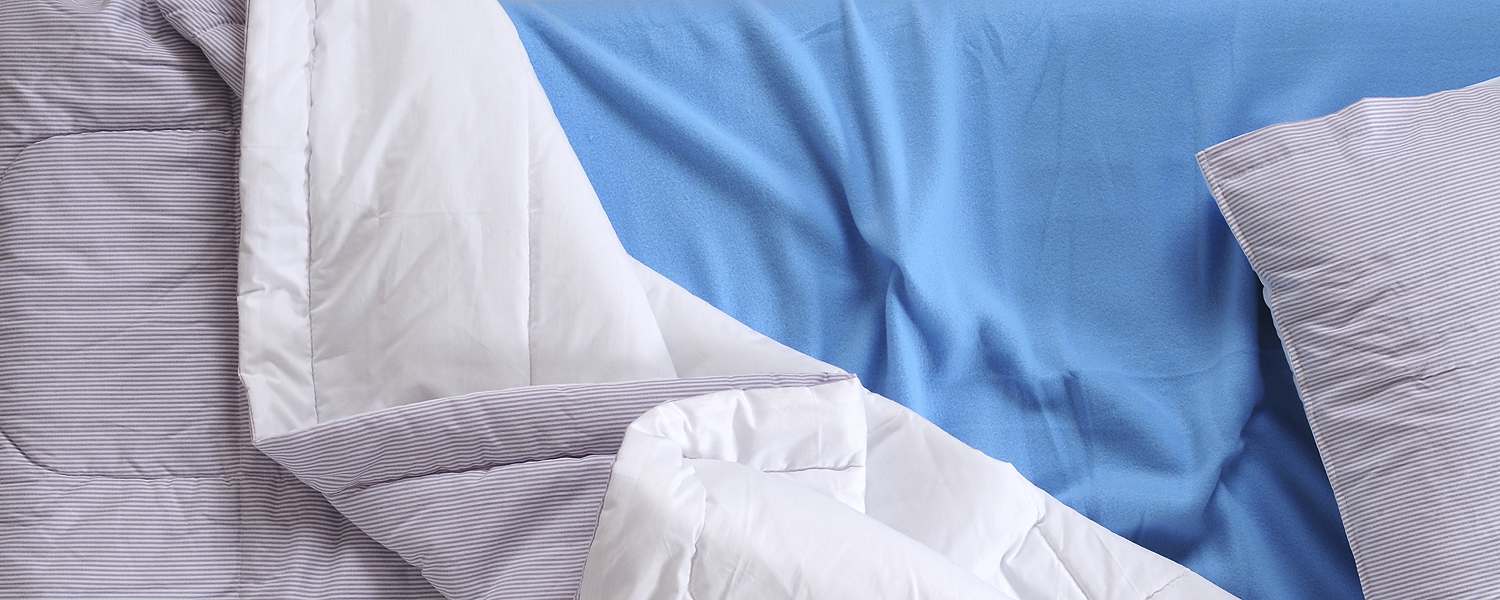 Flat Bed Sheets
The flat sheet, also called the top sheet, is placed between the fitted sheet and blanket.

Benefits & Uses...
Creates an extra layer of coverage - The flat sheet protects the blanket or comforter from getting dirty and prevents frequent washing that can weaken fabrics.
Adds style - This type of sheet not only provides an extra layer of comfort, but it also makes your bedding more welcoming by adding a decorative touch.
Year-round versatility - On warm nights, the flat sheet can be used by itself instead of a blanket. In cold weather, you can use the sheet with a blanket to add an extra layer of warmth.

shop all flat bed sheets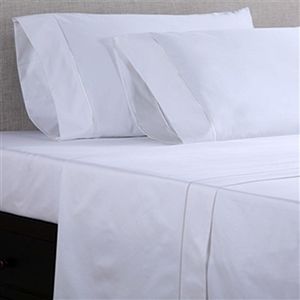 ---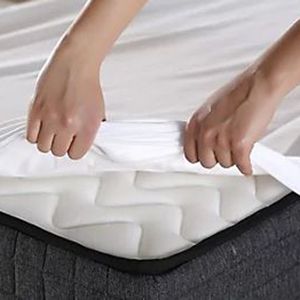 Fitted Bed Sheets
A fitted sheet covers the mattress on your bed. It has elastic sewn into each of the four corners to help it stay firmly in place over the mattress.

Benefits & Uses...
Provides a protective covering - The fitted sheet protects the mattress from night sweats, hair dyes and body oils. This helps maintain the appearance and longevity of your mattress over time.
Helps create a better night's sleep - By creating a smooth and soft surface for sleeping, a fitted sheet can help give you proper rest.

shop all fitted bed sheets

---
Types of Bed Sheet Fabrics
Egyptian cotton - Egyptian cotton is grown in Egypt and produces a longer staple (fibers) than any other cotton. These long fibers are spun into extra-fine threads that are woven into a high-quality fabric, creating sheets that are extra soft, durable and stand up to repeated washings. In fact, this type of cotton is designed to get softer over time, and it also helps wicks moisture away, keeping you cool when it's hot warm.
Microfiber - This fabric is composed of extremely fine polyester fibers. These bed sheets are very soft and resist pilling more than traditional polyester fabric. While microfiber sheets are thin, they're still strong and exceptionally smooth.
Cotton blend - Cotton blend combines natural and synthetic fibers like cotton and polyester to create sheets that are easy to care for and durable. This fabric is designed to be wrinkle resistant and comfortable for year-round use.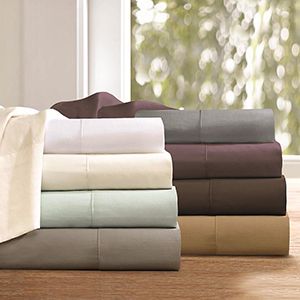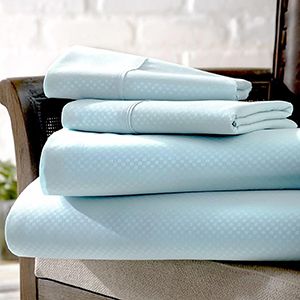 Jersey knit - This material is knit rather than woven, making it very durable, stretchy and wrinkle-free. You can compare the feeling of Jersey knit sheets to sleeping on your favorite soft, comfy t-shirt.
Sateen - Sateen is 100% cotton cloth made with a satin weave, which produces a very soft, lustrous feel. A sateen weave has more threads across than down, which catches the light and gives the sheet a shine. These sheets are durable, breathable and suitable for any season.
Flannel - Flannel is made with a thick cotton yarn, and its surface is gently brushed, raising tiny chunks of cotton on the fabric surface for a snuggly feel. The elevated pockets contain heat-trapping air, which is why the fabric feels so warm. These sheets are soft and warm enough for cold-weather months. However, you could use them year-round if you prefer a cozy feel or sleep in a cooler room.
---
Thread Count
Thread count refers to the number of horizontal and vertical threads per square inch. Generally, the higher the thread count, the softer the sheet and the more likely it will wear well or soften over time.
Low thread count - Sheets with a thread count below 180 are considered low. A low-thread-count sheet made of good quality material can be just as soft and durable as a higher thread count sheet, and it's typically much more budget friendly.
High thread count - Sheets with a thread count above 180 are considered high on the scale. A thread count of 280-400 is ideal and will give you a soft, durable and breathable sheet. Keep in mind that with higher thread counts, price and quality do tend to go hand in hand.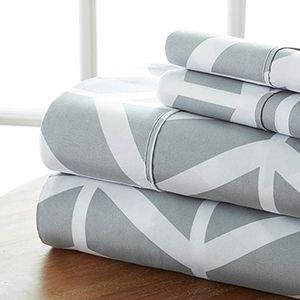 ---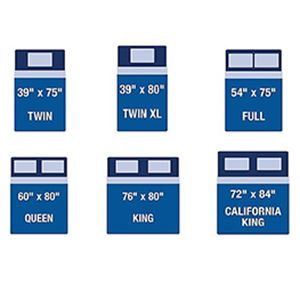 Bed Sheet Dimensions
Like most bedding, bed sheets are available in various sizes that fit any mattress. Here are common dimensions to keep in mind when choosing your sheets.




Learn more about standard mattress dimensions.
---
---
---