DIY: How to Paint a Room Like a Pro - Sears
DIY: How to Paint a Room Like a Pro


Adding a fresh coat of paint to a room is one of the easiest ways to make it feel like a whole new space. Whether you're moving into a new house or just want to refresh your home, the right painting techniques can help you save valuable time and energy. Roll up your sleeves, and get ready to paint any room like a professional with these helpful hints.

---
Step 1: Choose the Right Tools for the Job
Having the right tools is key to ensure a successful painting project. For an interior room, go with synthetic bristles on your brushes and rollers. Shorter, more narrow hand brushes are ideal for precision work around windows, doorways and baseboards, while wider options like rollers will cover larger areas quickly. Rollers with a short nap will leave a smoother surface on walls, but designs with longer naps will create a more textural finish. If you want to reduce the amount of equipment you'll need, an extendable roller handle can help cover walls and ceilings easily.


Step 2: Clear the Room
Remove as many items from the space as possible. If some furniture is too large to move out of the room, make sure that it's pushed to the center of and covered using a plastic tarp. You'll also want to lay down reusable canvas drop cloths along the walls you'll be painting to catch and absorb any unsightly spills or splatters.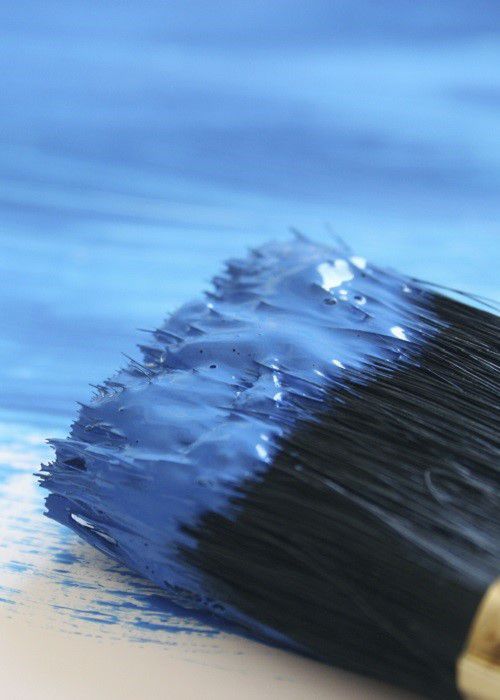 Step 3: Prep the Walls
Inspect the walls for holes, cracks, and dirt. Use spackling putty to fill holes and cracks. Wait for the putty to dry, then sand the area smooth using extra fine sandpaper. Dirty areas can be wiped down using a rag and plain water or a mixture of water and bleach. Unless you've mastered outlining (also known as "cutting") using your hand brush, you'll also want to apply painter's tape to the outlines of windows, baseboards and doorways you'll be painting up against. Use a putty knife to press the tape firmly into place to reduce the likelihood that paint will seep underneath as you work.

Step 4: Prepare your Supplies
If you're working with multiple gallons of paint, even if they're technically the same color, small discrepancies between containers can make walls look uneven after the paint has been applied. Thoroughly mix all of the separate containers together into one 5-gallon bucket in a process known as "boxing." Be sure to wash your roller heads to remove any loose fibers that can get stuck in the paint and end up on the walls as you paint.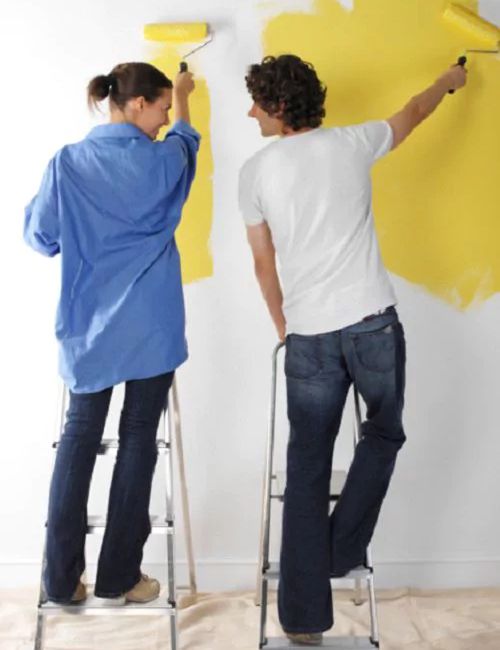 Step 5: Outline Each Section
Transfer a small amount of paint into a more portable container that will be easier to carry around the room. For each application, dip your paintbrush in the paint and tap, don't wipe, the brush on the side of the container. Apply 2 to 4 inches of paint along the corners, edges, baseboard, windows and doorways of a single wall.


Step 6: Fill in Large Spaces with a Roller
If you have your paint in a 5-gallon bucket, use a painting grid to cut down on unnecessary supplies and messes. Dip the roller into the paint and roll it back and forth against the grid until the nap is evenly coated before applying it to the wall. Be sure to move the roller in a zigzag or "W" motion for more thorough and even distribution. When the roller is running low on paint, resist the urge to press harder, as this can lead to roller strokes that will be difficult to eliminate after the paint dries. Repeat steps 5 and 6 for each wall and ceiling section before moving on to the next.


Step 7: Paint the Trim and Baseboards
Remove the painter's tape before tackling the trim and baseboards of the room. If the tape is pulling up paint or is difficult to remove, run a utility knife along the edge to separate the tape from the fresh paint, then peel it away at a slight angle. Feel free to apply painter's tape to the fresh coat of wall paint after it has dried completely before using your brush to cover the trim.

Step 8: Clean the Area
If you're winding down for the day and plan to paint tomorrow, there's no need to clean your brushes and rollers. Simply wrap them in plastic wrap and store them in the refrigerator so the paint won't dry out overnight. When you've fully completed your project, wash the brushes and rollers thoroughly using soap and water, tightly cap the paint containers and buckets and remove the canvas floor liners and sheets before replacing your furniture.

---
---
---