5 Easy Tips for Organizing Your Garage
5 Easy Tips for Organizing Your Garage

The garage is so much more than a place to park your car or shelve old toys. A well-organized space not only can be a multi-purpose area to store, bikes, equipment and tools, but it also can be transformed into a spacious workstation. That's why it's important to avoid treating this spot into a dumping ground. Here are some simple tip for organizing your garage.


1. Before You Get Into It, Plan It
Organizing your garage is a rewarding but ambitious endeavor. One that requires planning to ensure success and prevent rework. Be sure to set aside a good amount of time and have your storage system and supplies easily available so you can stay on task. And don't be shy ­— ask friends and family to pitch in so there's time left to enjoy your newly organized space together.

2. Empty Your Garage
This is purge time! Sort through all your garage items and decide which items to keep, donate, pitch or sell at a garage sale. The more you get rid of, the more room you'll have to designate for important storage and much-needed workspace.

3. Install An Organizational System
Now that your garage is decluttered, it's time to install that perfect storage system for your space. Be sure to maximize available wall and ceiling space for storing items that aren't used often. Installing garage cabinets, open shelving units and wall storage allows for an uncluttered garage floor. Transparent bins, magnetic strips and wall hooks will keep your items visible and accessible.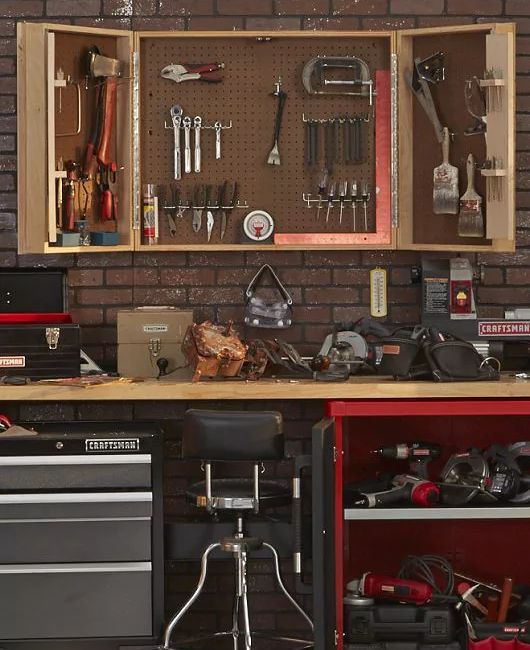 4. Categorize Your Stuff
While you may be anxious to start putting your things away, organizing them into similar piles first based on frequency of use is beneficial. Consider organizing your items into categories like gardening, sports, camping, crafts, maintenance, types of tools, and garbage/recycling. Then create a labeling system for all storage areas to keep items separated so they're always easy to find.

5. Create A Work Area
Now, the fun part! With everything in its proper place, it's time to focus on that coveted area of any well-organized garage. The Workspace. Designate a desk, table, workbench or all of the above. Make sure there are plenty of flat, stable surfaces to work on and safely use power tools. Be sure to include a toolbox or drawers nearby for easy access to equipment and supplies. And if you want go the extra mile and extend the square footage to create new space for fun projects.

shop all garage storage solutions
---
---
---