Chain Saws 101: Chain Saw Safety Tips
Chain Saws 101: Chain Saw Safety Tips



A chain saw can be a very helpful too when it comes to cutting down large branches or splitting wood. However, like any tool, this device can be very dangerous if used improperly. It's essential that you read the owner's manual before operating it so you learn all the specifics of your individual model. Here are some important chain saw safety tips to remember in any situation.

Wear protective shoes - Steel or composite-toed work boots will help you maintain traction on any surface while using the chain saw.
Protect your face and eyes - Use a helmet and safety goggles to guard your whole face. You could even invest in an all-in-one helmet, which features a full face shield.
Use earplugs - Since this tool can be loud, wear earmuffs or earplugs to reduce the noise from harming your ears.
Wear work gloves and chaps - Put on heavy-duty work gloves to maintain a good grip while operating the chain saw. Make sure you're also wearing safety chaps to protect your legs from debris.
Start your chain saw safely - Always start your chainsaw on the ground so you can spot malfunctions and stay protected from the force of the startup. Make sure the chain saw is started away from flammable materials.
Activate the chain brake between jobs - Use your chain brake when moving between job locations or shutting down. If you can, opt for a chain saw with an automatic chain brake function.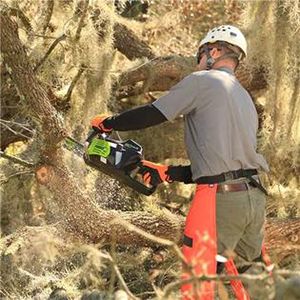 ---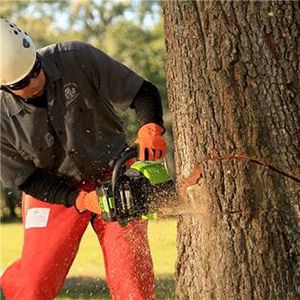 Don't wear loose clothing - Baggy sleeves, scarves and jewelry can get caught in the saw by accident. When you wear a long-sleeved shirt, roll the sleeves up tightly above your elbows. If you have long hair, you should secure it with a hair tie or clip.
Don't cut with only the tip - Avoid kickback and injury by approaching your cut with the entire chain saw bar and not just the tip. Some models come with special mechanisms that help prevent kickback by triggering the chain brake.
Don't use above your shoulders - Using a chain saw while reaching above your shoulders can be difficult. Make sure all your cuts are done waist high or lower.
Don't operate on a ladder - It's best to avoid working on a ladder in case it falls or you slip. Consider using a pole saw instead to cut objects at tall heights.
Don't always use a chain saw alone - When working on a heavy-duty project, it's important someone is nearby to assist you immediately just in case an accident occurs.
---
---
---