A Beginner's Guide to Buying a Lawn Edger
A Beginner's Guide to Buying a Lawn Edger

If you're looking to put the finishing touch on a landscaping project, an edger is a must-have tool. This handy machine helps deliver clean lines and creates a professional finish to any lawn. Before your next mowing and trimming project, here are the types of lawn edgers and features to consider.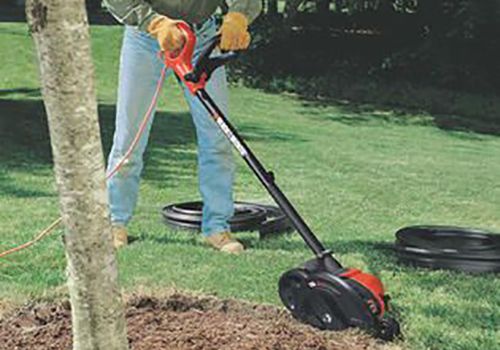 Electric Lawn Edgers
Affordable long-term solution - If you're trying to save some money while keeping up your lawn, an electric lawn edger is more budget friendly compared to models that require fuel.
Ideal for small properties (corded) - For smaller properties with fewer obstacles, a corded edger gets the job done. Although your range will be limited to your extension cords, it makes up for that with increased amps.
Easy mobility (cordless) - Being able to maneuver around shrubs, flower beds and other landscaping features makes a cordless model extremely valuable.
Shop all electric lawn edgers
Gas Lawn Edgers
Removing rough roots - Whether it's vines, entrenched weeds or woody roots, the power of a gas engine will help you slice through difficult earth.
Tackling large lawns - When you have a large lawn to edge, a gas model will be able to handle a significant amount of area with ease.
Handling pro projects - If you're a professional landscaper, this type of edger is a solid option because it can hold up to everyday wear and tear.
Shop all gas lawn edgers
---

Essentials & Conveniences
Wheels - To keep you on a straight line, many edgers feature a combination of wheels. Two wheels are sufficient for simple landscapes. Three- and four-wheel models help you maneuver through more difficult terrain. Curb wheels are especially helpful when working on edges near steep drop-offs.
Height adjustment - No two lawns are the same. Height adjustment features allow you to get the right depth based on the area in your yard and the type of soil you're edging.
Bevel adjustment - When working around trees, flower beds and other areas, you may need to alter the blade accordingly. Bevel adjustments allow you to change the angle of the cut as the landscape changes.
Trenching mode - Digging deeper to remove more roots is the job of a trenching kit. Some edgers feature this to give you more versatility and functionality to perform tougher landscaping tasks.
Edger Blades

Flat rectangular blades - Flat blades are ideal for general edging tasks, especially along driveways or straight edges of the lawn.
Scoop-end blades - Scoop ends are perfect when working around flower beds or other areas with mulch cover. The scoop works through the ground cover to produce your line.
Star blades - Star models range from 3 to 8 points. These shapes are go-to options when edging near retaining walls and other stone surfaces. They can also be used to do some light aeration in the spring.
Shop all lawn edger accessories
---
---
---