Product Insight: BLACK+DECKER Electric Hedge Trimmers
---
BLACK+DECKER Electric Hedge Trimmers
Large branches or small, these BLACK+DECKER™ trimmers will help you tame wild hedges and get them into shape fast! Thanks to their specially designed handles and dual-action blades, you can trim quickly with better control and less vibration. The longer 22" trimmer cuts larger branches, covers more area, reaches higher and trims deeper into shrubs.
Common Features and Benefits
Cord Retention: Prevents accidental unplugging.
Lightweight, Compact Design: Lets you work with less fatigue.
Dual-Action Hardened Steel Blade: Helps reduce vibration while trimming.
Two-Year Limited Warranty: Gives you peace of mind.
Product Specifications

Built-In T-Handle and Full-Length Trigger: Provides control while cutting.
3.0-Amp Motor: Enough power to trim branches up to 5/8" thick.

22" SAWBLADE™ Hedge Trimmer - #74322
22" Dual-Action Blade: Cuts fast with less vibration.
Innovative SAWBLADE: Lets you cut branches up to 1½" thick.
4.0-Amp Motor: Enough power to trim branches up to ¾" thick.
Full Wraparound Handle: Provides greater comfort and control while cutting.
Over-Molded Rubber Grip: Offers a better grip with less vibration.
---
Ask An Expert
Is this trimmer heavy?
The new #74466 trimmer has a 16" blade that weighs only 3.8 lbs. and it's very compact design makes it easy to use.
Can these trimmers reach tall hedges?
A hedge trimmer with a longer blade lets you reach higher and deeper across hedges, which is ideal for tall privacy hedges.
What is a dual-action blade and what does it do for me that a single-action blade doesn't?
It means both parts of the blade move in opposite directions at the same time instead of having one fixed piece with the other piece moving back and forth. This results in less vibration and quicker, more efficient cutting of larger branches.
How does this SAWBLADE feature work?
Located at the end of the blade, the SAWBLADE has a serrated edge with sharp teeth (similar to a reciprocating saw blade), which lets you cut through thicker branches that may not fit between the normal teeth.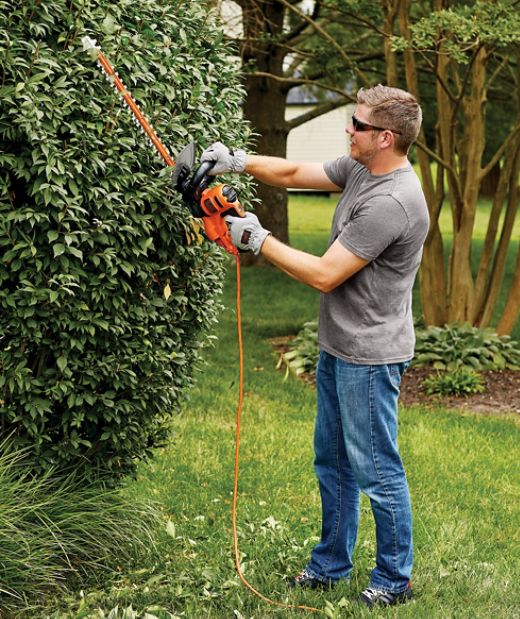 ---
---
---