Mower Showdown: Gas vs. Electric Mowers
Mower Showdown: Gas vs. Electric Mowers


When choosing a new lawn mower, there are several available options, ranging from standard gas-powered mowers to electric models. As you select a new machine, it's important to consider the benefits and limitations of both gas and electric lawn mowers. Factors such as the size of your lawn and your budget will play a part in determining which one will be the best option for your needs.
| | | |
| --- | --- | --- |
| | Gas Lawn Mowers | Electric Lawn Mowers |
| Flexibility | Good for small or large lawns and varying terrain | Limited to smaller yards and range of cord or battery |
| Starters | Pull cord and push-button starter | Push-button starter |
| Maintenance | Requires regular maintenance | Cordless batteries need to be replaced or charged |
| Noise level | High level of noise | Very little sound |
---
Advantages of Gas Lawn Mowers
Continuous cutting capabilities - This model enables you to maneuver through a large yard and tougher types of grass with plenty of power. If you run out of gas, you can easily refill and get continue cutting your lawn immediately.
More flexibility - With a gas mower, you can take on any size lawn, as well as hills and slopes. It also allows you to maneuver around flower beds, trees and other obstacles without getting tangled with a cord.
Limitations of Gas Lawn Mowers
Noisy - The noise level this machine generates is fairly high and can disturb your neighbors if you decide to mow at the wrong time of day.
Fuel costs - Since it runs off gasoline, you'll need to refuel frequently throughout the season. Depending on gas prices in your area, this can be expensive and the cost can vary from time to time.
Higher level of maintenance - You not only need to keep the tank filled and blades sharpened, but you also have to regularly check the engine, oil and filters to ensure your mower runs properly.

shop all gas lawn mowers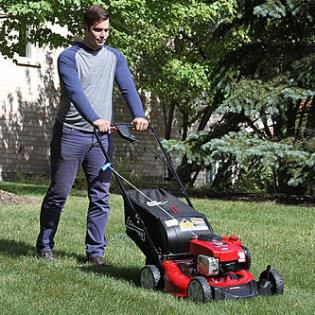 ---
Advantages of Electric Lawn Mowers
Less expensive over time - Electric lawn mowers can be less expensive to operate and maintain. You may realize savings over the long run because there's no need to purchase gas, spark plugs and oil on a regular basis.
Low maintenance - Like a gasoline lawn mower, you will need to make sure you keep your blades sharpened. However, you do not need to check and maintain oil, spark plugs or gasoline levels.
Quiet operation - An electric lawn mower typically generates less noise than a gas model, making it possible for you to cut your lawn without disturbing those around you.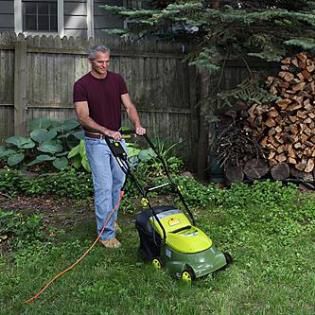 Limitations of Electric Lawn Mowers
Not ideal for larger yards - Since some electric mowers operate plug into an outlet, you can only go as far as the cord will take you. Even with a cordless electric mower, you can run down the battery fairly quickly if you're cutting a large yard.
Less flexibility - If you're trying to navigate a yard with obstacles, it might be challenging to use an electric mower. You must ensure the cord doesn't get tangled and that you avoid pools of water. Also, a cordless option has a limited battery time.
Limited power - When cutting through thick grass, this model doesn't have the same cutting power as a gas model, so you'll likely have to make more than one pass to get a even cut.

shop all electric lawn mowers
---
---
---