How to Store Your Mower for Winter
How to Store Your Mower for Winter


Winter is around the corner, and in many places, that means cold temperatures and snow. It's important to keep your lawn equipment well maintained and properly stored during the season. Riding and push mowers require extra attention to ensure they're ready to run smoothly at the start of spring. When your last mow is finished, consider the following tips to store your lawn mower for winter.


Remove the Battery
When you're done with your mower for the season, the first thing you should do is remove the battery. Start with the negative terminal and then the positive. Wipe it down with a rag to remove any dirt and use a battery cleaner for the terminals. Once the battery is clean, make sure to store it in a clean and dry area.

shop all battery terminal cleaners | wire brushes

Remove the Blade
Don't let your mower blade sit all winter with grass and gunk on it. Make the cleanup easier by removing the blade and holiding it in place (see your owner's manual for instructions). Protect your hands with thick gloves during the process. You can then sharpen the mower blade once it's off your machine.

Clean the Mower Thoroughly
A thorough cleaning of your entire machine will help avoid any damage caused by debris or dust. Make sure to remove the spark plug before you hose down the body and the cutting deck. Scrape off excess mud and grass from the undercarriage with the help of a knife or brush.

Add Fuel Stabilizer
If your tank is half full, top it up with fuel stabilizer to keep your gasoline fresh for months and prevent rusting. It's important to run the engine for a few minutes so that the stabilizer circulates throughout the entire system. You can drain off excess gas into a can. Restart the mower and repeat the process till the fuel lines are empty.

shop lawn mower fuel stabilizers

Clean or Change the Air Filter
All that oil and gunk can affect performance next season. If you use a sponge-based filter, it can be washed with soap and water. A paper filter, on the other hand, should be replaced with a new one. Always check the cooling fins for excess debris, and use a screwdriver to it out.

shop all lawn mower air filters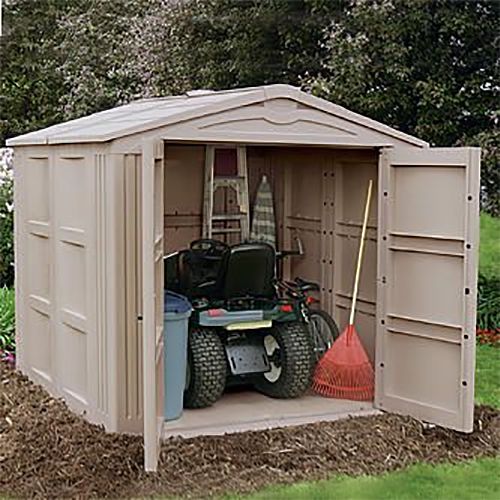 Find a Safe Spot
Park your lawn mower in a dry spot and cover it. A storage shed or garage always makes an ideal place to keep the machine safe from the elements. Avoid leaving your riding mower next to a furnace or water heater as the heat will only damage the tractor with continuous exposure over a few months.
---
---
---