Product Insight: Craftsman 21" 196cc 4-Wheel Drive Mower

Craftsman 21" 196cc 4-Wheel Drive Lawn Mower
Talk about versatility! This mower offers three drives: front-wheel drive, rear-wheel drive or all-wheel drive, so you can choose the drive that best matches your project. This mower also offers three mowing options: you can use it as a mulching mower, a side discharge mower or as a bagging mower!
Product Specifications
21" 196cc 4-Wheel Drive Lawn Mower - #37955
Choice of Three Drives: Lets you choose from front-wheel drive, rear-wheel drive or all-wheel drive based on mowing conditions.
2.2-Bushel Dust Blocker Plus™ Bag: Larger bag has a better fill rate so you can maximize the amount of clippings with fewer stops to empty.
Dual-Lever Deck Height Adjustment: Lets you match the cutting height to the lawn growth to help ensure a great cut every time.
3-in-1 Mowing Deck: Gives you the option to mulch, side discharge or bag grass clippings.
Dual-Trigger Variable Speed: You can adjust the mower speed to match your walking pace.
196cc Engine: Offers plenty of power to get the job done quickly and efficiently.
AutoChoke: Provides easy starts without priming or choking.
Deck Wash: Helps keep the deck clean for optimum mowing performance.
11" High Rear Wheels: Provides easy maneuverability around obstacles.
---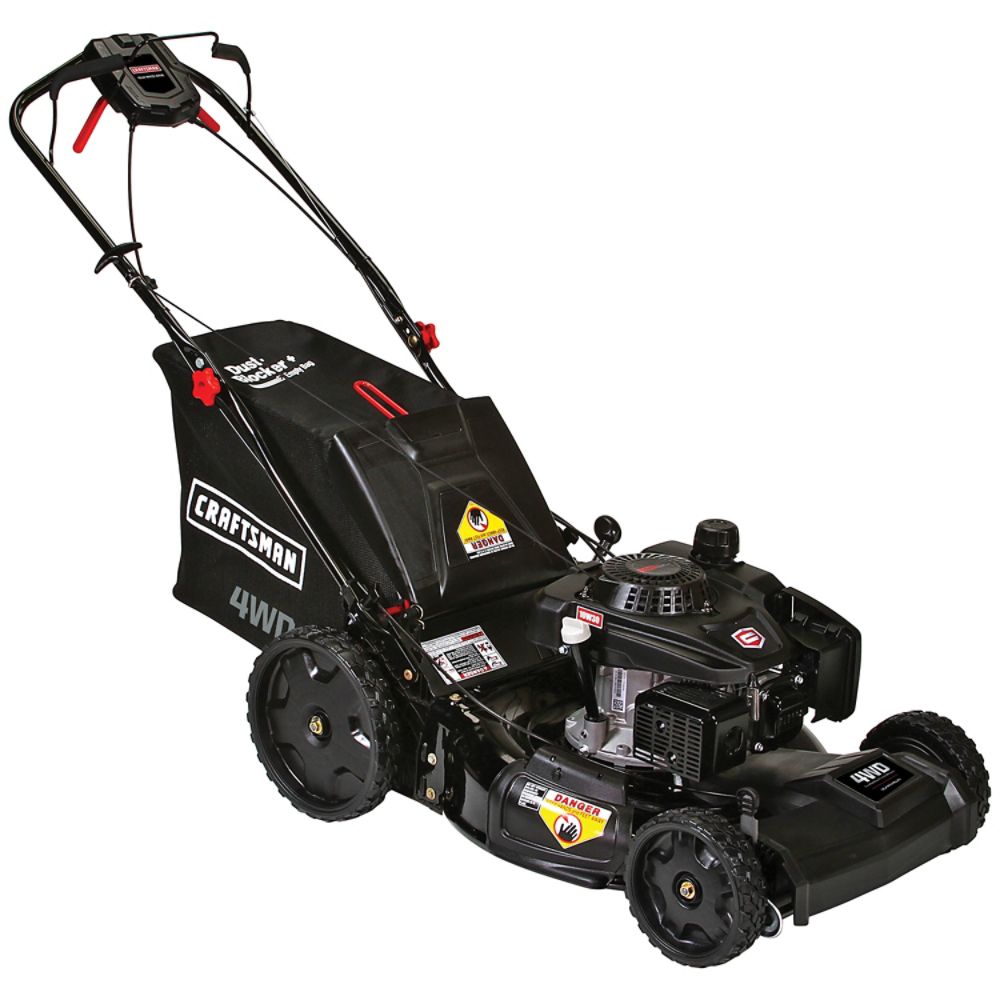 Ask An Expert
What is the benefit of the four-wheel drive system?
A four-wheel drive mower gives you the option of using either front- or rear-wheel drive. That's important if your yard has a lot of trees or obstacles, because you'll want to use the front-wheel drive. With this drive, you can lift the propelled front wheels off the ground so you can easily maneuver around rocks, trees and more. Plus, the back wheels won't spin and create turf tear. When the yard calls for more traction on hills, inclines or wet, slippery surfaces, be sure to engage the rear-wheel drive.
Check it Out
See how to use the front-, rear- and all-wheel drive options on this mower. Squeeze the left trigger, then right and then both together. While engaging each trigger, notice how the front wheels propel with the left, the rear with the right, and then all four wheels with both triggers engaged.
Try to simulate turning the mower around a tight turn by lifting the front wheels off the ground and squeezing the left trigger. If the unit were an all-wheel ONLY drive, the rear wheels on the ground would continue to propel and resist turning, creating turf tear.
---
---
---
---