Mower Showdown: Riding Mowers vs. Push Mowers
Mower Showdown: Riding Mowers vs. Push Mowers



Whether you're moving into a new abode or your old mower has finally kicked the bucket, finding a machine to keep your grass looking well-kempt is a must. So do you go with a riding mower or a traditional push mower? Both types offer great benefits and can keep your lawn manicured all season. Let's take a close look at both so you can find the right one for your yard.

| | | |
| --- | --- | --- |
| | Riding Mowers | Push Mowers |
| Ideal Yard Size | Large | Small or medium |
| Power Sources | Gas | Reel, electric & gas |
| Required Maintenance | Typically more | Typically less |
| Size | Bigger | Smaller |
| Versatility | More versatile with attachments | Less versatile |
---
Advantages of Riding Mowers
Power - The large engine delivers serious power to tackle large plots of land, whether you're mowing, towing or working on another outdoor project.
Versatility - Snow blowers, tillers, aerators, carts and other useful attachments allow you to use your lawn tractor for more than just cutting the grass.
Convenience - Riders can make quick work of lawn chores and stay comfortable while doing them. The padded chairs and cup holders make you feel like you're driving a car, and the engine's power lets you cruise quickly through any mowing job.

Limitations of Riding Mowers
Maintenance - Since this type has more moving parts, it can require more regular upkeep to keep it running strong. Repairs can sometimes cost you more as well.
Price - Depending on the model, brand, fuel and other settings, you'll have to spend a considerable amount more than a push model.
Bulky size - The large size can take up a lot of storage space in your garage or storage shed.

shop all riding mowers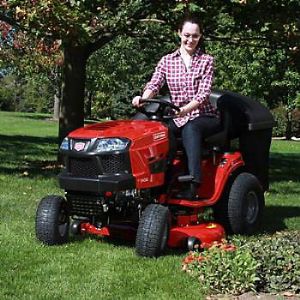 ---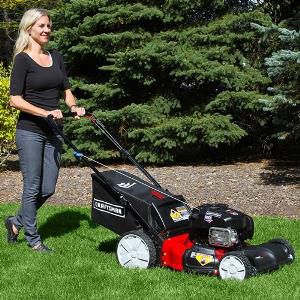 Advantages of Push Mowers
Various power sources - With manual, electric and gas models available, you can pick the right type of mower to fit your situation best.
Maintenance - This option has much less under the hood, making maintenance and upkeep much simpler.
Size - A push mower has a much smaller footprint, making it easier to store. Some even feature foldable handles to make them even more compact after you're done mowing.
Limitations of Push Mowers
Lack of versatility - The smaller size, engine and lack of attachments mean this machine only comes in handy for trimming the lawn.
Not best on larger lawns - Most types of push mowers are only built to handle about an acre to 1.5 acres of land.
Time - Pushing your mower around your lawn will take more time and effort to complete your any grass-cutting project.
---
---
---