DIY: How to Clean Your Riding Mower Deck
DIY: How to Clean Your Riding Mower Deck


Your riding mower is your best friend when it comes to cutting a large lawn. That's why keeping your machine in great shape should be a top priority. Grass buildup under the mower deck can cause rusting or clumps of dirt to get trapped, hindering your ability to mow efficiently. Here are some simple steps for regularly cleaning your riding mower's deck.
---
Step 1: Safety First!
It's important to take every precaution before working on your machinery. Put on protective gardening gloves before you begin. Then, make sure to first empty the gas tank and remove the spark plug.

Step 2: Access the Underside of the Mower Deck
Prop the mower onto its side securely so that it doesn't fall. You also can detach the blade for added safety.

Step 3: Scrape Off Dried Grass
Use your garden hose and water to wet the underneath of the mower so that the grass is easier to clean. Then, use a flat pry bar to scrape of all the dried up clumps of grass. Remove excess dirt with a wire brush.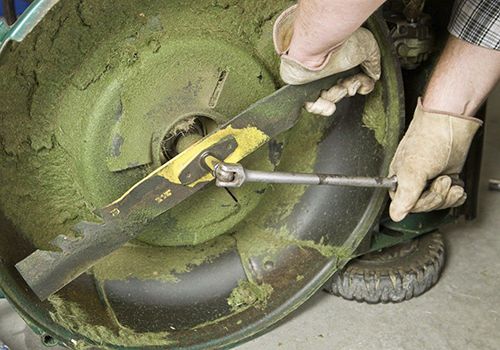 ---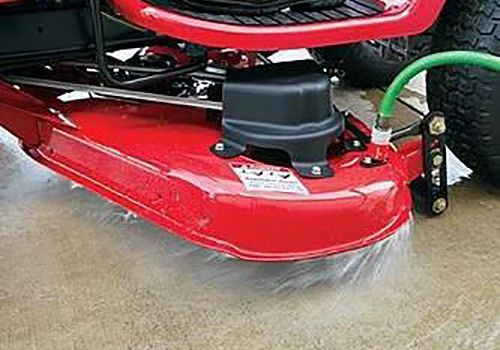 Step 4: Wash Your Mower Deck Thoroughly
Use dish or car wash soap and hot water to give your mower deck a good cleaning. Your wire brush will let you scrub off any caked dirt and debris easily. New models feature a hose port to make rinsing the deck easier.

Step 5: Check the Air Filter
Remove the air filter and check whether it needs to be replaced. If it can be cleaned, use an air compressor to blow off grass and debris without tearing the filter. You can then wash it properly with soap and water. Make sure to let it air dry, or blow it dry with the compressor.

Need to replace it? Learn how to replace your air filter.

Step 6: Let Your Riding Mower Dry
Moisture can damage your lawn mower if it isn't dried completely. Leave the mower on its side till all the water dries up.
---
---
---