A Beginner's Guide to Buying a Snow Blower
A Beginner's Guide to Buying a Snowblower


Whether you face a light snowfall or major blizzard, shoveling snow can be a burden. Tackling the job with a high-powered snowblower cuts down on time and saves you energy. This machine especially comes in handy if you live in an area that experiences frequent and heavy snow during the winter. Before buying a snow blower, let's take a look at each type so you get the best one for your home.


Electric Snowblowers
An electric snowblower is the perfect solution for light snow and small areas.

Benefits & Uses...
Good in small spaces - For small properties, a corded model gives you the range you need to clear small patches of snow.

Mobility (cordless) - If you need more mobility or need to clear a slightly larger space, a battery-powered model delivers more range for clearling light snowfalls.
Weight - Electric models are much lighter than their gas counterparts, making them easier to maneuver through the snow.

shop all electric snowblowers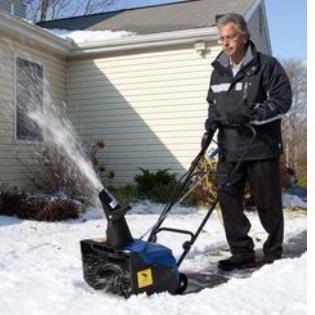 ---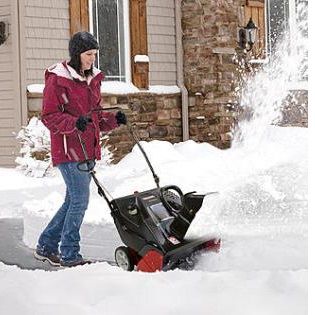 Single-Stage Snowblowers
A single-stage model is built for moderate accumulation and can easily remove tightly packed snow from paved surfaces.

Benefits & Uses...
Small to medium snowfall - If you experience frequent snowstorms that accumulate no more than 8 inches in the winter, a single-stage model can clear the snow quickly.
Average-sized properties - This type of snowblower is perfect for the average homeowner. A single-stage machine can clear wet snow from most midsized driveways and sidewalks.

shop all single-stage snowblowers
---
Dual-Stage Snowblowers
A dual-stage snowblower is built to throw snow further and handle heavier snowfalls.

Benefits & Uses...
Heavy snow and ice - A dual-stage blower can handle heavy accumulation of more than a foot of snow. It's also built out of durable material that can handle clearing wet snow and ice.
Large properties - Long and wide driveways can be tricky with a small blower because it may throw snow back on the pavement. A dual-stage device uses an impeller behind its auger, which throws snow and ice farther than its counterparts.
Gravel driveways - The auger on a dual-stage model doesn't make contact with the ground, meaning it can clear uneven surfaces or gravel-based driveways.

shop all dual-stage snowblowers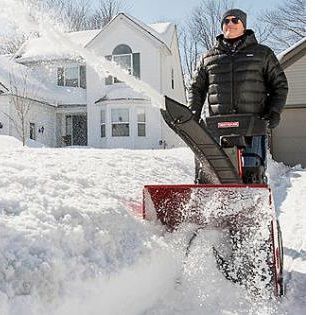 ---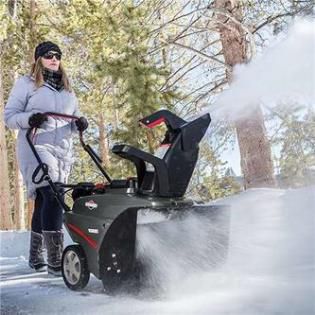 Three-Stage Snowblowers
Three-stage snow blowers are built for the toughest winters and made to stand up to the heaviest snow and ice.

Benefits & Uses...
Commercial properties - If you're in the snow removal business, a three-stage snow blower works faster to throw more heavy snow and ice, so you're done and able to move onto the next property in no time.
Handling Ice - Most triple-stage models come with serrated augers to better slice through slush and solid ice. This will keep you from having to go back and chip through ice patches afterwards.

shop all three-stage snowblowers
---
Impeller Chutes
Adjustable options - Many chutes can be adjusted to change the direction of where the snow lands, so you don't accidentally throw slush onto mail boxes, bird baths or other items on your property.
Chute articulation - Adjustable models rotate easily by using a hand-crank, joystick or electric switch.
Width - Wider impeller chutes can handle thick, large amounts of snow, and they're typically less prone to clogging.

Snowblower Conveniences
Heated handles - Some models have heated handles to keep your hands warm while you work.
Lights - Built-in headlights make pre-dawn snow clearing safe and easy to navigate.
Push-button start - Electric starters keep you from having to pull multiple times on the cord to get your thrower going on frigid mornings.
Snowblower cab - A cab will shield you from both wind and snow blowback during removal to keep you warmer.

shop all snow removal accessories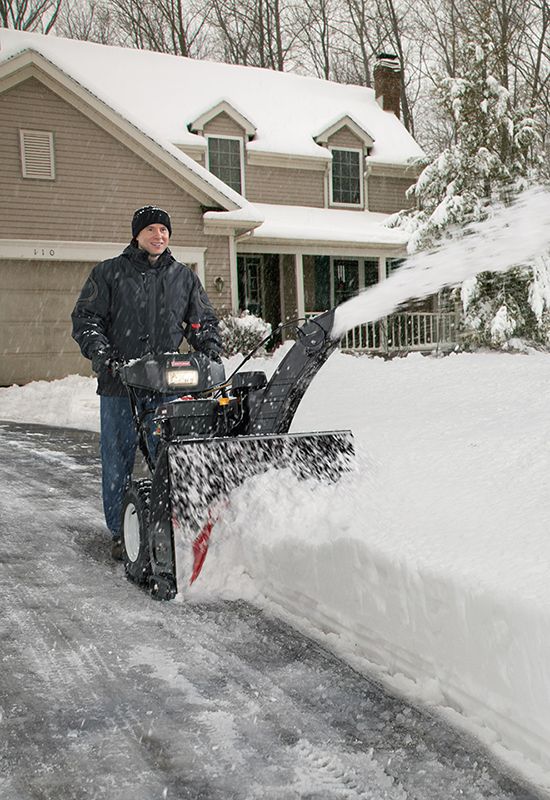 ---
---
---