Snowblower Showdown: Single-Stage vs. Dual-Stage Snowblowers
Snowblower Showdown: Single-Stage vs. Dual-Stage Snowblowers


Shoveling snow can be a hassle, especially after a major blizzard. Fortunately, a snowblower can clear off large amounts of snow quickly and efficiently. The two most popular models are single- and dual-stage throwers. Both have useful capabilities, but each has its own unique qualities that are worth exploring. Here are some pros and cons to consider before choosing between a single- or dual-stage snowblower.

| | | |
| --- | --- | --- |
| | Single-Stage Snowblowers | Dual-Stage Snowblowers |
| Intake Height | Shorter | Taller |
| Clearing Width | Narrower | Wider |
| Usage | Light and medium snow | Heavy-duty snow |
| Surfaces | Smooth surfaces only | Smooth and uneven surfaces |
| Standard Cost | More affordable | Less affordable |
---
Advantages of Single-Stage Snowblowers
Compact size - This model isn't as bulky as a commercial snowblower, which makes it easy to store in a garage or shed.
Affordable - Since it's typically compact, a single-stage machine is much more affordable than a larger, dual-stage model.
Clearing small or medium-sized properties - This device is perfect for suburban-style homes that might see less than a foot of accumulation.
Limitations of Single-Stage Snowblowers
Unable to clear gravel surfaces - This type of thrower can't clear uneven surfaces or gravel driveways because its auger touches the ground. Running a single-stage device over gravel can damage the auger and the rest of the machine.
Handling large snowfalls - A single-stage snow blower struggles when clearing a foot or more of snow.
Average throwing capacity - If you have a driveway that's long and wide, this blower might struggle at throwing snow completely off the pavement. It's normally suitable for medium or small driveways so the snow can reach your lawn.
Can wear down with frequent use - While its auger is made of hard, durable rubber, a single-stage device can wear down over time with heavy use.

shop all single-stage snowblowers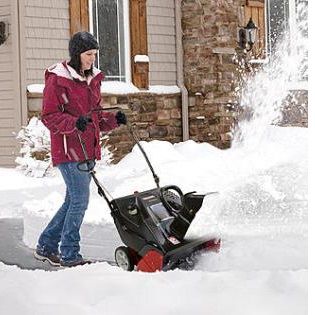 ---
Advantages of Dual-Stage Snowblowers
Handles high accumulation - A dual-stage blower can throw snow drifts above a foot, which is ideal in areas with consistently high accumulation.
Durability - This type of blower is made with high-grade materials and a steel auger blade that can handle repeated use and difficult conditions. A dual-stage machine is also strong enough to withstand the rigors of professional snow removal jobs.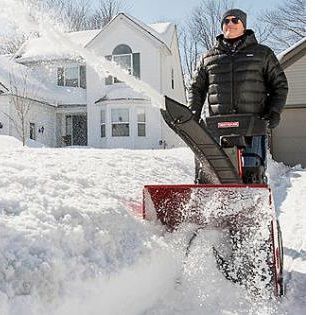 Snow throwing - A dual-stage snow blower operates using a separate impeller behind the auger, which helps throw snow farther than a single-stage model.

Limitations of a Dual-Stage Snowblower
Price - Since it's made of durable materials, a dual-stage model costs more than many of its counterparts.
Bulky size - This type of device is large and heavy, meaning it will take up more space in your shed or garage.


shop all dual-stage snowblowers
---
---
---