Family Time: 5 Backyard Toys for the Summer
Family Time: 5 Backyard Toys for the Summer

There's something special about summer. The sun and the warm temperatures beckon, reminding us there's life beyond the walls of our home or office. The kids are free from school, and the contagious buzz of their excitement entices us to share that joy, reconnect as a family and unplug technology in favor of nature. It's the ideal opportunity to "kick it old school" and play outside with some awesome outdoor toys.

---

Bubble Machine

Recommended for: Young kids
From humble beginnings as a hoop on a stick and a pail of soapy water, this perennial favorite still retains the ability to mesmerize children. This outdoor classic has evolved to create the same effect faster and with greater flair. Manual and battery-operated bubble machines can crank out hundreds of bubbles in the time it would take to simply dip their wands in the solution.
Why It's Fun:
Less messy than traditional methods.

Generates vast amounts of bubbles quickly and easily.

Inexpensive to operate.
---

Rubber Playground Ball

Recommended for: Young kids, teens
Another timeless classic, the playground ball is a childhood basic. Whether kids are playing catch, bouncing it off of a wall or enjoying a game of kickball, the options for excitement are endless. These balls come in various sizes and are great for developing children's creativity, coordination and physical fitness. The durable rubber construction typically features a textured surface that makes them easy to grip. Fun, colorful images of superheroes, emojis and cartoon characters add an extra dash of eye appeal for youngsters. Best of all, no batteries are required.
Why It's Fun:
Encourages creativity to invent games.

Promotes physical activity.

Durable enough for vigorous play.

Usable almost anywhere.

Inexpensive to own.
---

Flying Disc

Recommended for: Teens, adults
A staple at parks and beaches for decades, the flying disc has always carried with it an air of cool. The sleek, sporty design says "summer" as easily as fireworks scream, "Fourth of July!" This lightweight plastic toy is popular among teens and adults, with frequent sightings on the quads of college campuses worldwide. Grooved edges provide a subtle grip that makes throwing and catching them relatively easy. In addition to being a popular plaything, the flying disc is often a social tool, acting as an excuse for friends simply to hang out.
Why It's Fun:
Promotes physical coordination.

Durable enough for vigorous play.

Usable almost anywhere.

Builds social skills.

Inexpensive to own.
---

Lawn Darts

Recommended for: Teens, adults
Lawn darts have come a long way. The modern version of this backyard BBQ and picnic staple has evolved into a much safer toy that maintains all the excitement and fun. The pointed metal is gone, replaced by rounded plastic, rubber or beanbag tips that help them sail toward plastic hoops placed on the ground as targets. It's a game of skill and finesse that's well-suited for friendly family competition and amiable trash talking.
Why They're Fun:
Promotes physical coordination.

Fosters competitiveness & sportsmanship.

Builds social skills.

---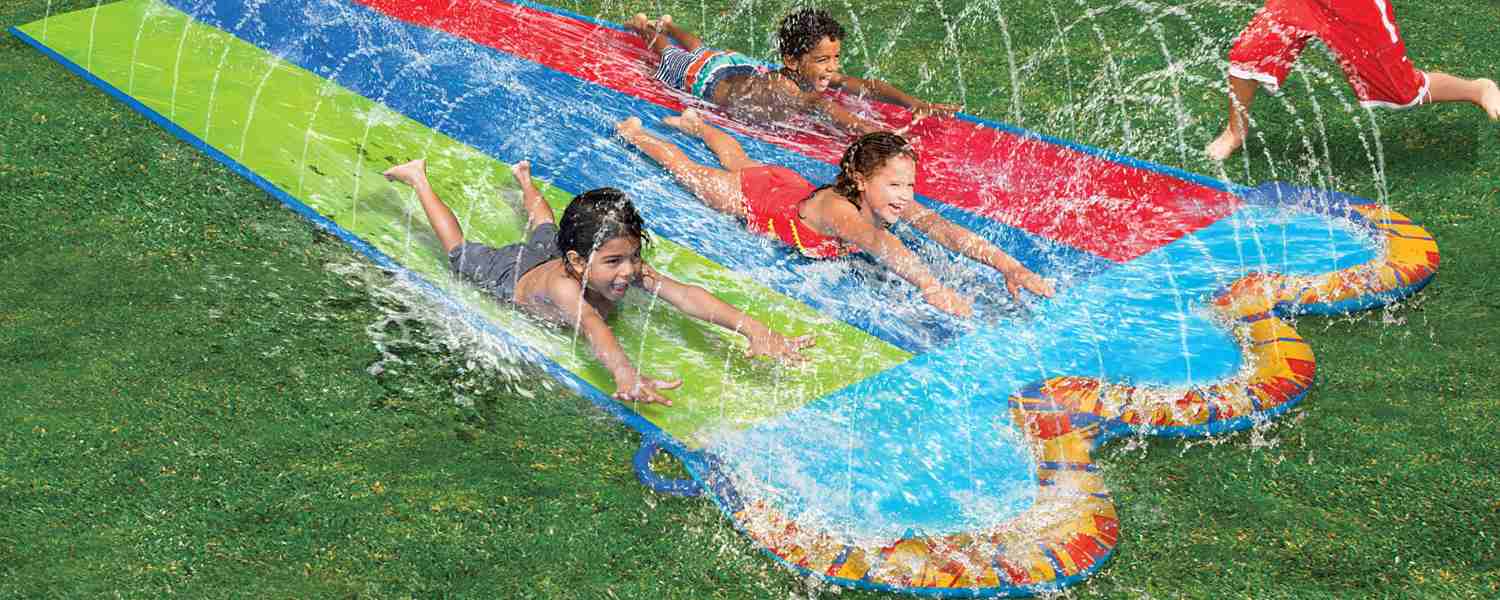 Backyard Water Slide
Recommended for: All ages
Bring the fun of the water park to the privacy of your backyard with your own personal water slide! No crowds, no waiting and it's easy to fold up and store in the garage or basement. This exhilarating toy is a great way to keep the whole family cool without the costly investment that comes with owning a swimming pool. Lengths range from 20 feet to 30 feet, with a simple hookup to your garden hose. A variety of supplemental features may include misting side walls and even a splash pool.
Why It's Fun:
Eliminates stressful crowd interactions.

Enjoyable for the entire family.

Easy to maintain and store.

Promotes physical activity.
---
---
---