Outdoor Kitchen Designs and Ideas
When the sun is out and the weather is warm, it's time to take the family outside and enjoy a backyard barbecue. After all, food always seems to taste better when cooked on a grill. An outdoor kitchen can expand your living space beyond summer with a place to cook, eat, entertain and enjoy backyard living at its best. Here are some outdoor kitchen ideas to consider in your yard.


---
1. Start with a Cooking Station
The grill is always at the heart of any outdoor kitchen. Freestanding options typically have cooking areas ranging from 24 to 48 inches wide, and they feature side burners and additional storage. If you prefer high-tech cooking, consider a pre-fab grill island or a customized, built-in model that lets you cook for a large crowd. Depending on what types of foods you like to make, consider including a rotisserie, griddle, smoker or pizza oven to your cooking station.

shop all grills | smokers | pizza ovens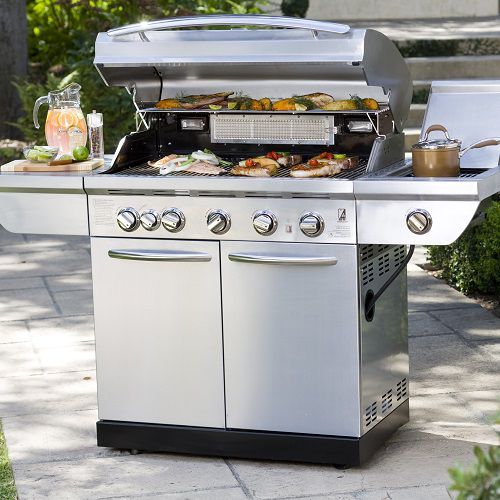 ---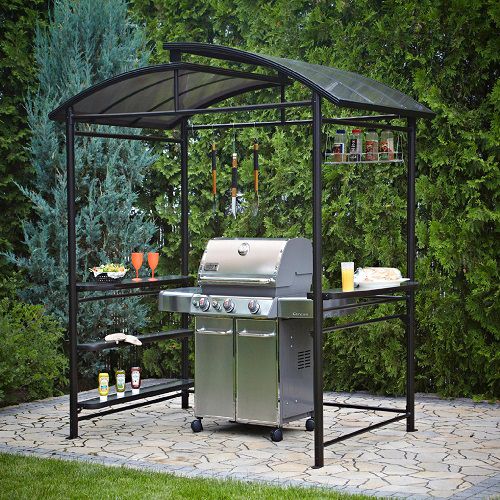 2. Create Shade & Shelter
Adding a pergola or umbrella to your outdoor kitchen can expand grilling season and protect your cooking station from the weather. One of the latest types of cooking huts is a multi-season grill gazebo. Choose a soft-top fabric roof canopy or a durable hard-top model. Some options also feature side shelves for serving beverages and food, an easy-access area for plates and eating utensils and hooks to hold grilling accessories. High-tech grill gazebos feature built-in LED lights, so you can continue grilling into the night.

shop all grill gazebos | canopies & pergolas

---
3. Find Durable Grilling Tools
A quality set of grilling tools is essential for any outdoor kitchen. At the very least, you'll need a sturdy set of grill tongs for moving coals, picking up hot grates and flipping food. Consider having a large spatula to flip and transfer food to the serving plate and long metal skewers for making shish kabobs.
Brushes are also essential grilling utensils. A basting brush applies marinades and sauces to your chicken or ribs, and a separate brush can be used to apply oil over the grilling grate. A cleaning brush with wire bristles and a metal scraper on the front edge makes cleanup a breeze. Consider other essential items like meat thermometers, fireproof mitts and grill baskets, which come in handy when whipping up fish, corn or vegetables.

shop all grilling tools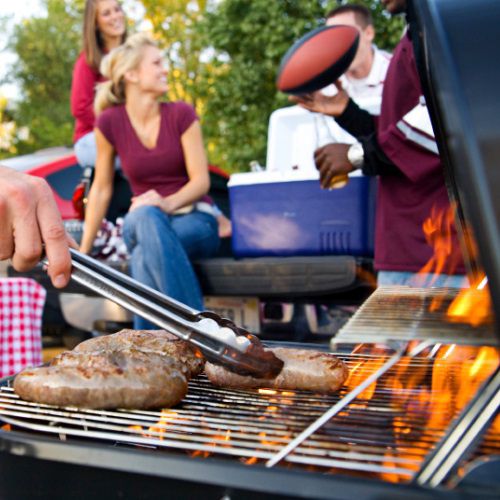 ---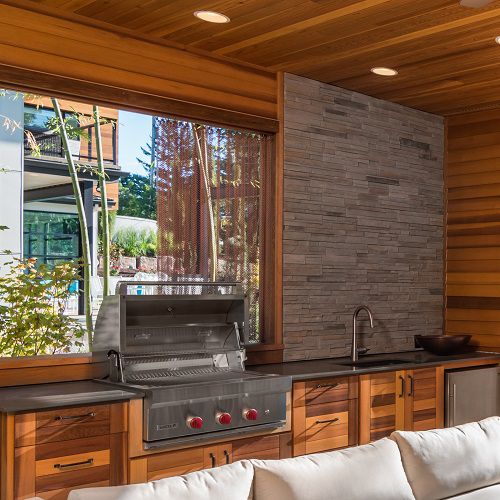 4. Install Outdoor Kitchen Equipment
If you want to create an environment similar to the kitchen in your home, customize the outdoor space with an island, cabinets and counters to prepare food or serve up a buffet-style banquet. A stone or brick island can match seamlessly with decorative pavers and stones in your backyard. Choose weather-resistant materials for the countertop, such as ceramic, granite and concrete, to withstand the elements. With the correct powers source, you can even have a setup that includes a microwave oven, compact refrigerator, ice maker and wine cooler.

shop all outdoor kitchen equipment


---
5. Set Up an Outdoor Sink
Whether you need one for cooking or cleanup, an outdoor sink is always a wise investment for an outdoor kitchen. Depending on the model, it can be hooked up outside to a water line or hose, so you can clean equipment or wash your hands without having to head in the house. Many outdoor sinks are constructed of durable materials like stainless steel to withstand harsh weather conditions.

shop all outdoor sinks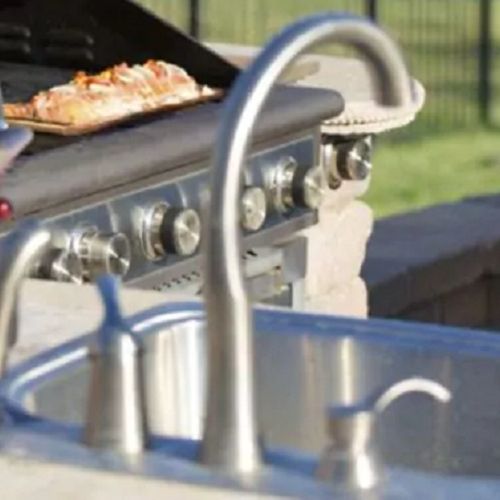 ---
6. Dedicate a Spot for an Outdoor Fire Pit
An outdoor fireplace or firepit is always a favorite spot for friends and family to gather. Both options help liven up summer evenings or warm up chilly nights. If you're really ambitious, you can create a built-in pit area with bricks and pavers. Many models can even expand your entertainment and cooking area, whether you're roasting hot dogs or marshmallows. With the right grill rack or grate, you can even cook hamburgers, steaks and kebabs.

shop all outdoor fireplaces | fire pits

---
7. Add a Dining Set
Outdoor dining and seating not only need to hold up to the outdoor elements, but they also should be comfortable, practical, washable and able to fit well with your backyard's design. Make sure to choose an outdoor dining set that is large enough to accommodate all of your guests. Depending on your needs, consider a small bistro set for more intimate dining or a large dining set for up to 12 people. You can provide additional seating with counter-height stools, stackable chairs and built-in benches.

shop all outdoor dining sets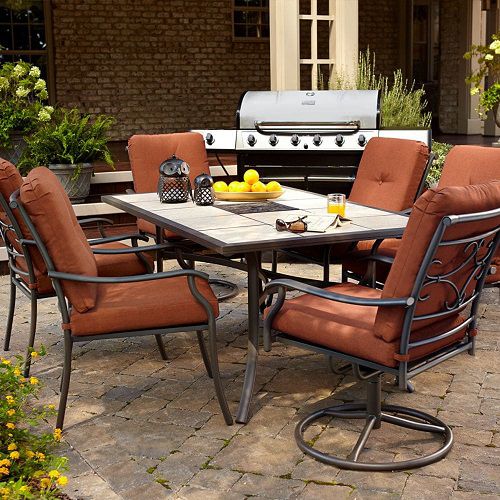 ---
---
---
---