Canopy vs. Pergola vs. Gazebo

Take the time to relax in your backyard, whether you're dining al fresco, catching a few rays by the pool or enjoying an evening under the stars. With backyard shade, you can add protective covering from the hot sun, a climbing wall for plants and even an enclosed space to keep pests away. Whether they come pre-fabricated or as a DIY kit, canopies, pergolas and gazebos all offer a variety of features for your backyard. Use the following information to help guide your decision when choosing to purchase one of these classic backyard structures.
Canopy vs. Pergola vs. Gazebo
| | | | |
| --- | --- | --- | --- |
| | Canopy | Pergola | Gazebo |
| Affordability | Less expensive | Moderately expensive | More expensive |
| Space | More space | Varies | Less space |
| Available as Stand-Alone | Yes | Rarely | Yes |
| Sun Protection | Yes | Sometimes | Yes |
| Portable | Usually | No | Rarely |
---
Advantages of Canopies
Sun Protection - Most canopies come with soft fabric roofs that can keep you out of direct sunlight.
Cost - The least expensive style of outdoor shelter, canopies offer shaded areas for a significantly lower cost than more intricately designed gazebos or pergolas.
Sports-Themed - Sports fans will love that many of their favorite teams can be represented on canopies for tailgates, sports-themed backyards and game-watching parties.
Portability - Because they are lighter than other outdoor shades, you can easily move a canopy around your yard, and even take it with you for events away from home such as camping or tailgating.
Usable Space - Canopies are more open than other outdoor shades, so many models will allow you to seamlessly set up underneath and beside the space.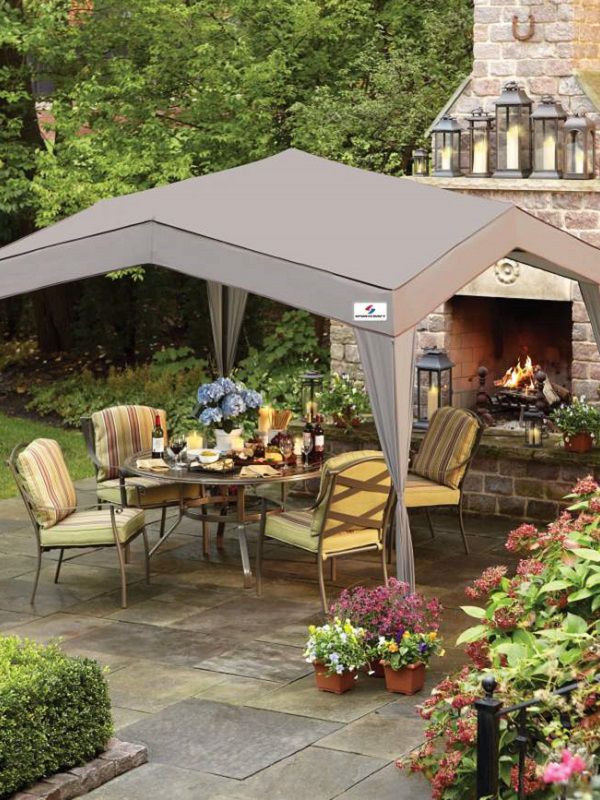 Limitations of Canopies
Style - While some canopies offer a stylish elegance, most are simple frames with light coverings.
Weather-Resistance - Most canopies are not sturdy enough to withstand strong weather conditions, so you'll need to take them down or stabilize them before a big storm.
Shop all canopies
---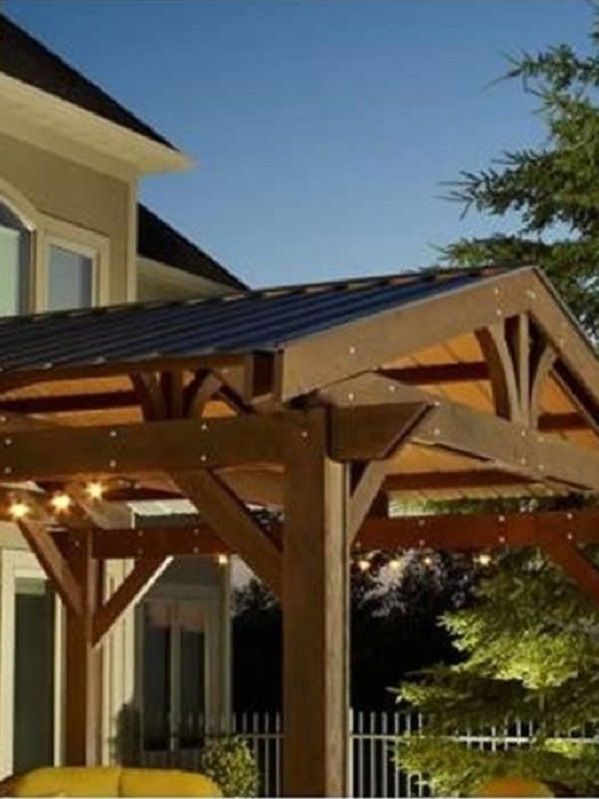 Advantages of Pergolas
Allows for Climbing Plants - Because of the open structure and slatted roof of a pergola, plants can climb up and around, wrapping themselves through the open spaces. As plants grow and spread out, they'll also provide shade.
Extension of the Home - With a covered pergola, you can create an outdoor room that is an extension of your home. If you don't have a covered patio or extended roof, this can be a reliable option.
Usable Space - Pergolas offer the most usable space, as they are the widest open outdoor shade. Some models are smaller, but the majority are quite large.
Limitations of Pergolas
Cost - Pergolas can be significantly more expensive than canopies, while offering less shade.
Sun Protection - Most pergolas do not have covered roofs. While you can purchase a canopy cover for your pergola, the structure alone does not offer protection from the sun's rays without a cover.
Portability - A pergola cannot be moved once it is in place. Whether it's attached to your home or another structure on your property, or you have a standalone model, the wooden structure is often heavy and built to last.
Shop all pergolas
---
Advantages of Gazebos
Sun Protection - Most gazebos have a hard roof, and some gazebos make use of a fabric roof; both roof types will keep the sun from shining directly on you.
Elegant Style - Gazebos are the most intricate of the outdoor shade structures.
Durability - Many gazebos are built with durable material that can help them withstand tough weather conditions including rain, snow and heavy wind.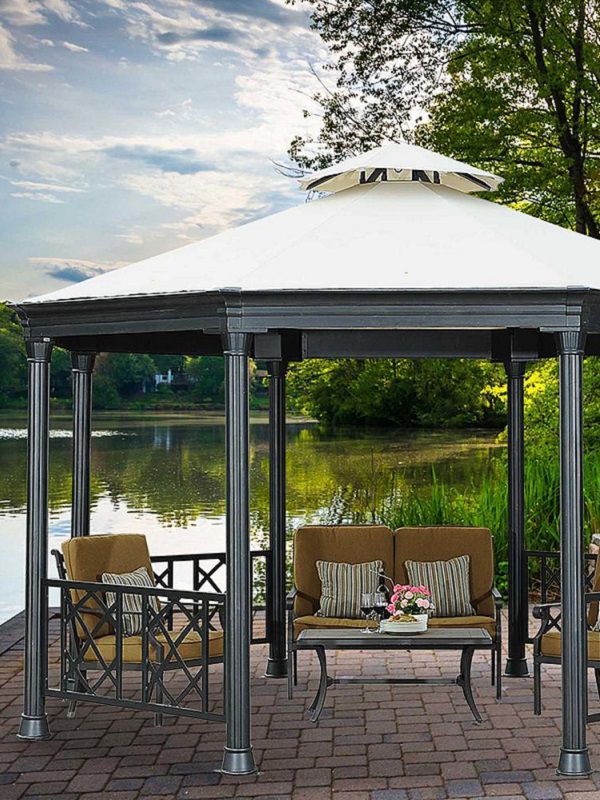 Limitations of Gazebos
Cost - A gazebo can be the most expensive of outdoor shelters, depending on the style. Complete wooden gazebos with hard rooftops are more expensive than the portable canopy-style gazebo.
Portability - Most gazebos are stationary and not easily moved. In addition to the sturdiness, the sheer size and weight of a gazebo keeps it standing firm in one space.
Usable Space - Gazebos are often the most closed-off outdoor shade and the structure takes up a lot of space, so they have the least amount of usable space.
Labor - Sometimes, you'll find do-it-yourself gazebo kits, instead of a pre-fabricated gazebo. You'll need to follow detailed instructions to build the gazebo, instead of one that is easily installed on your property.
Shop all gazebos
---
---
---