A Beginner's Guide to Buying Outdoor Lighting

Spending time under the stars creates a romantic and peaceful scene. The right outdoor lighting can create the atmosphere you desire, whether or not the moon and stars are cooperating. From hanging lanterns to solar lighting, you'll find a variety of styles and designs to form a stunning and elegant outdoor landscape.
Types of Outdoor Lighting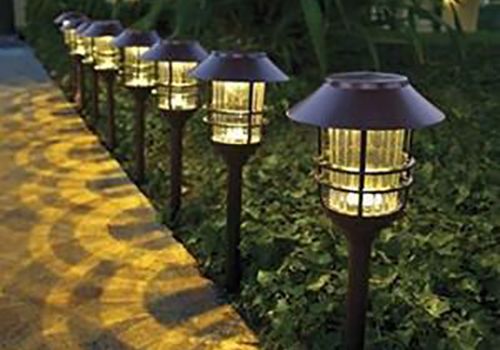 Garden décor - Light up your garden to create an evening glimmer of floral beauty.

Entryways - When guests walk up to your front door, lead the way with stylish solar lighting to guide them.
Driveways - You won't have to worry about guests missing your driveway when you light up a path along the sides of the lawn. These lights are particularly beneficial for long winding driveways.
Security & Flood Lighting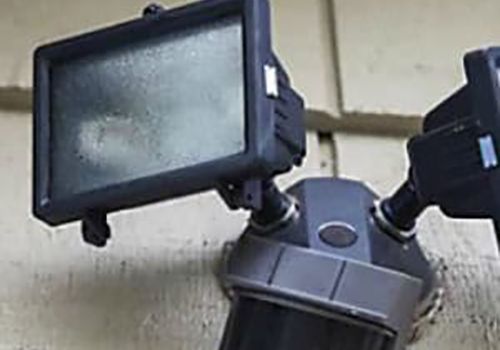 Large backyards - A flood light often illuminates large areas with a brightly shining glow. If you want visibility throughout your sprawling yard, install a flood light or two.
Safety and protection - For people who come home late, regardless of how often, the bright illumination of security lights can give you the assurance you need to walk from your car to your front door without fear. These lights can also discourage potential burglars.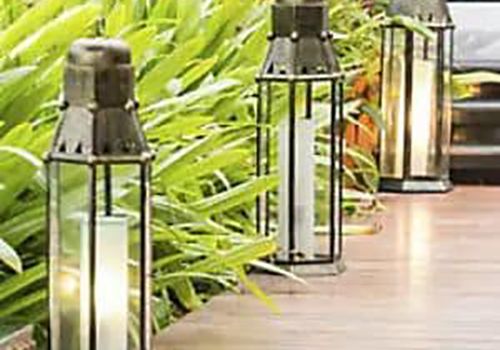 Porches & covered patios - Lamps and lanterns will look stylish when paired with casual seating sets in an outdoor living space.
Apartment patios & balconies - With a variety of small light fixtures and decorative options, this type of lighting will brighten up a small space with simplicity and style.
Gardens - Consider lighting with colorful glass casing, decorative lanterns that you can place throughout your plants.
---

Features of Outdoor Lighting
Solar energy - Solar lights are an energy efficient way to light paths, by using sun light to charge the battery.
Motion sensors - A motion detector will keep the lights on only when people are out and shut off after a time of not detecting movement. These are also helpful in security lighting.

Low voltage - You can find low-voltage options to save energy when using pathway & other landscape lighting.
Timers - Set times for your outdoor lighting to come on as the sun goes down and then turn off at an appointed time. This will keep you from using energy when it isn't needed.

Mounts - Some outdoor lighting fixtures mount to external walls or hang from the ceiling of your gazebo. Create the right atmosphere for your space with the right lights in the right places.
Things to Consider
Where are you looking to add light? Take a good look around the outside of your house and lawn to determine which areas need outdoor lighting. Pay extra attention to walkways and entryways.
What style are you going for? Think about the décor and style of your house. Is it simple and modern, loud and bold or perhaps rustic and cozy? It's important to select outdoor lighting that will complement your existing style.
Is energy efficiency important to you? Pay attention to the types and wattage of bulbs used in various outdoor lighting fixtures to help ensure you're not using too much energy.
How much light is too much? Make sure not to overdo it, or your neighbors (or family members) might complain that your home is too bright at night. You can always add more fixtures if it's still too dark.
How easy will it be to install? Take note of all available power sources outside your home and around the yard. If you want fixtures that you can install yourself, make sure to read installation instructions before you make a purchase.
A Beginner's Guide to Buying Outdoor Lighting
---
---
---