5 Things to Consider When Choosing Solar Lights
5 Things to Consider When Choosing Outdoor Solar Lights

Solar lighting is one of the most energy-efficient and cost-effective outdoor lighting options available. These unique lights make use of the daily sunlight to illuminate your outdoor space every evening. From garden to pathway lighting, there are a variety of beneficial solar lights that can add a decorative flair to your home. With these solar landscaping ideas, you can make the most of your landscape lighting.
Let the Sun Shine
Solar lighting relies on sunlight to store energy for evening hours. Check with the manufacturer of your outdoor light set to learn the hours of sunlight your lighting needs each day. Confirm that the space has plenty of sun exposure before you install your light fixtures.
Illuminate Your Patio or Deck
With so many solar options to choose from, you can brighten up your deck or patio with solar lights. Install deck lighting in the structure of your deck or patio for evening entertaining. You can even make use of tiered lighting on porch or deck stairs, as this lighting catches the sun from the top, but angles the light downward to light each step.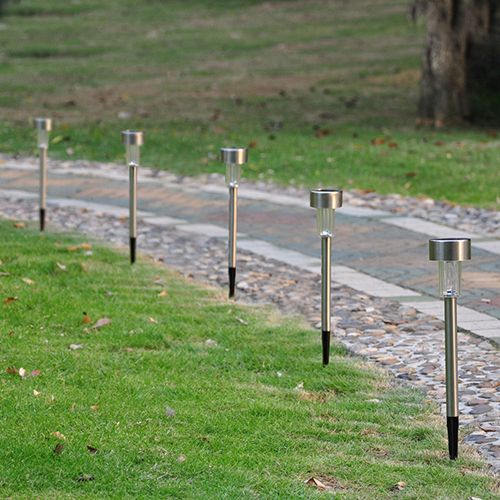 Save Energy with Motion Sensors
Lights with motion sensors can give you an enhanced sense of security on late nights. Instead of illuminating your yard throughout the evening, light sets with motion detectors will turn on at the first sign of movement. If you're working a late shift or coming home from a party, you won't have to worry about your solar lights running out of juice before you get home. The motion sensors preserve energy and only operate when they sense movement.
Make Use of Solar Panels
If you want to place solar lights in a space that doesn't offer much sunlight, you can use light sets with solar panels that will capture the light more easily. Solar lights are placed in an area with maximum sun exposure, and they transfer the solar power to the light fixtures.
Prep for Winter
Because there is significantly less sunlight in the wintertime, you're going to find that your solar lights won't operate for as much time as they do in the summertime. Consider adding supplementary lights to ensure that you can walk through an illuminated space on the shortest and darkest days of the year.
---
---
---