A Beginner's Guide to Buying Patio Furniture
A Beginner's Guide to Buying Patio Furniture
Patio furniture is a great way to spruce up your home and create a charming and comfortable appeal. The latest outdoor furniture not only accentuates other yard decor, but it also allows you to set up a beautiful space for friends and family to chat or eat outside. Whether you're revamping your property or prepping a new home, there are a wide variety of designs and styles to choose from. Here are some useful tips and features to consider when buying patio furniture for your backyard.

Patio Dining Sets
These sets allow you to enhance your outdoor space and keep with the overall theme of your home. With dining furniture on the porch, you have a cozy spot to relax outside or spend quality time with the family.
Benefits…
Wide selection - Since these are often the center point of your other outdoor furniture, there are many designs available. From wood to plastic finishes, choose a style that matches the rest of your decor and fixtures perfectly.
Ideal for parties & meals - Host get-togethers on the patio for friends when the weather is pleasant.

shop all patio dining sets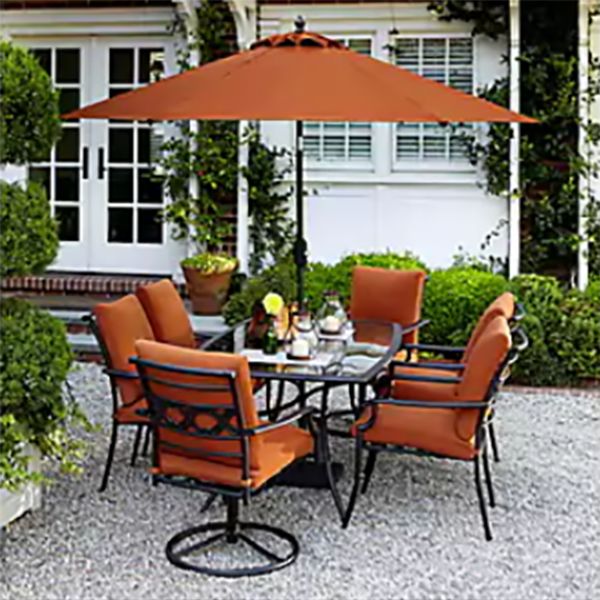 ---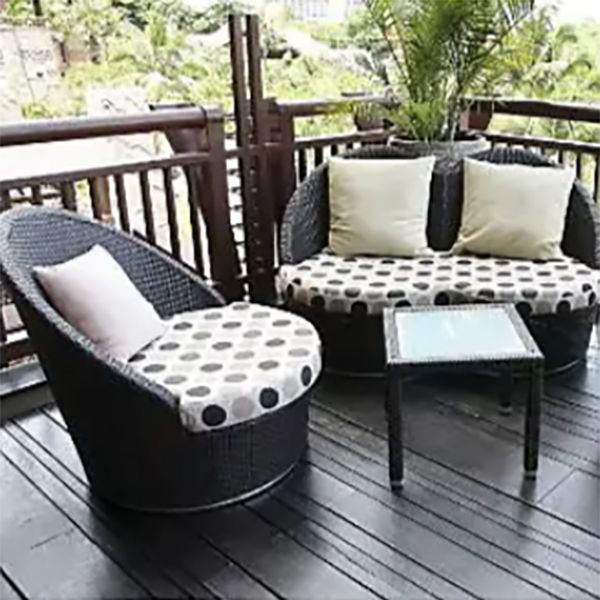 Casual Seating
Create a lovely ambience and replicate your family room on the deck or patio. Pick from a wide range of pieces, including outdoor love seats, sofas, chaise loungers and accent tables.
Benefits…
Great for relaxing outside - Casual seating allows you to chat with family and friends in a comfortable setting.
Available in sets or separate pieces - You can opt for full sets or individual pieces that fit into your current set-up. A full set is ideal for larger patios or if you frequently entertain outside. However, one or two pieces might be enough for smaller spaces.
Blends easily with other fixtures - Place casual seating fixtures under gazebos and canopies for a lovely visual effect. These types of outdoor seating also are available in vibrant hues that will bring a pop of color to any yard.

shop all casual seating
---
Patio Bar Seats
A new bar set is a functional and stylish addition to your existing layout. Outfit your patio with a small set that can seat two or a fuller design that can accommodate four or more people.
Benefits…
Perfect for entertaining - Whether you like frozen concoctions or non-alcoholic beverages, a patio bar is a great hangout spot for any party or impromptu get-together. It also makes a great accent piece with matching bar fittings and accessories.
Poolside fun - When the summer rolls around, an outdoor bar works in tandem with the pool in your yard. You'll love grabbing chatting with friends and family at the bartop in between dips in the water.

shop all patio bar sets
---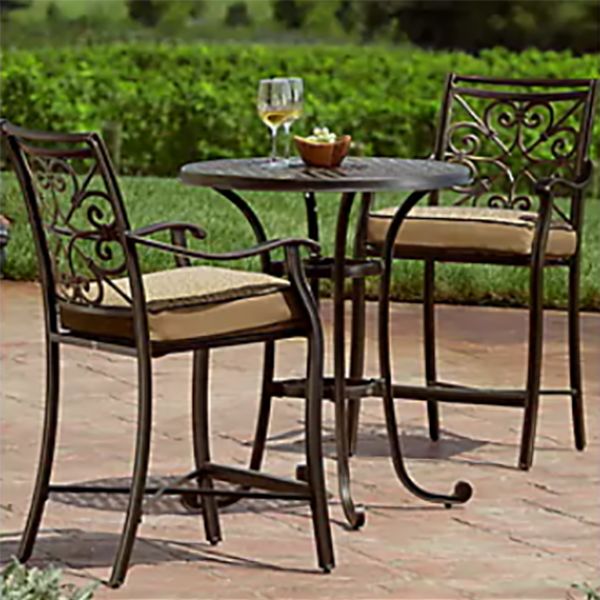 Bistro Sets
A bistro set features a quaint table and two chairs that are ideal for small spaces. It not only creates an intimate seating option, but a bistro table and chairs also adds a beautiful touch to any area.
Made for small patios and balconies - If you lack the space for large dining sets or casual seating, this set is a great choice. It even makes a great choice for casual seating on an apartment balcony.
Works well with other furniture - Thanks to its space-saving design, you can add a lovely bistro set to go along with your other patio furniture.
shop all bistro sets
---
What to Consider When Buying Patio Furniture
Size - It's important find pieces that fit seamlessly on your patio, balcony, porch or deck. If your space is too small and you have a lot of fixtures, it can look cluttered and messy. Choose sets or pieces that not only fit your space but also give you enough room to move around easily.
Design - Select a style that fits in with the overall theme for your yard. Consider picking neutral shades for a more vintage look or colorful hues for a vibrant feel. The choice is all yours.
Comfort - Test the pieces out before you buy them by sitting in each chair. That loveseat you have in mind shouldn't be too hard or too deep. Chairs should be sturdy and comfortable on your legs and back. Pick outdoor couches or lounges that aren't too low. Lower seating can be difficult to get up from.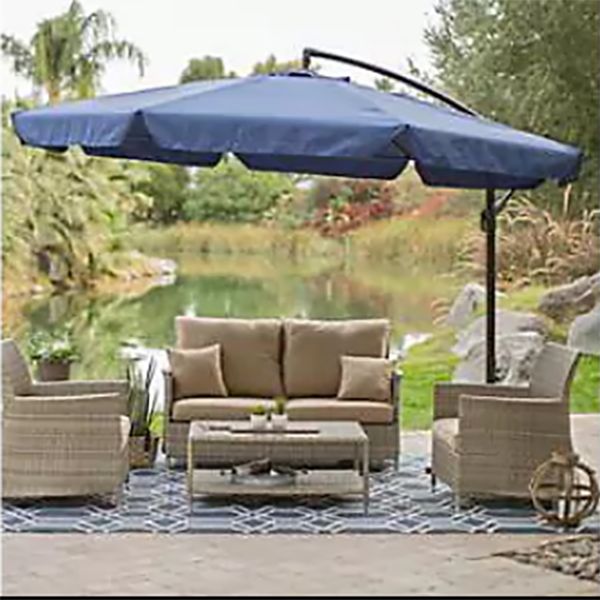 Shade - Make sure each piece is well protected with the right accessories. A fiberglass roof over your patio or a large umbrella will keep you cool and prevent your tables and chairs from fading due to the harsh sun.
Material - Consider the area you live in and the weather conditions there. You don't want your beautiful furniture to wear out quickly. For instance, wooden furniture is great for sunny regions, while plastic models are better in places that get a lot of rain.
---
---
---