Front Porch Decorating Ideas
Front Porch Decorating Ideas


The front porch of your home is the first place people will see when they visit. It's important to make friends and family feel welcome right off the bat. Whether you want to add some cozy patio furnishings for people to relax or fill it with beautiful flowers and plants, creating a cohesive space sets the tone before guests come inside. Pick up a few tips on how you can transform your front porch into a space that reflects the attention to detail you put into decorating the rest of your house.


Savor Simplicity
With a few key pieces, create an inviting space from even the smallest front porch. Whether you have a wrap-around porch or a small area by the front entryway, all you need is casual seating, porch lighting and fresh greenery. Set out a couple of wooden rocking chairs that you can paint for a colorful accent. If you have space, place an end table between them. Make sure that there's adequate lighting for guests who come and go after dark, whether you have a porch light or lanterns that hang from the ceiling.


Shop all patio furniture | outdoor lighting

Fill It with Flowers
Instead of planting annuals in flower beds every year, use a variety of planters and containers to turn an open porch into a stunning garden space. Use planters in different colors and sizes to complement the flowers you choose, and arrange them decoratively on your porch. Guests will feel immediately welcomed by the beautiful aesthetic and pleasant aroma.

Shop all planters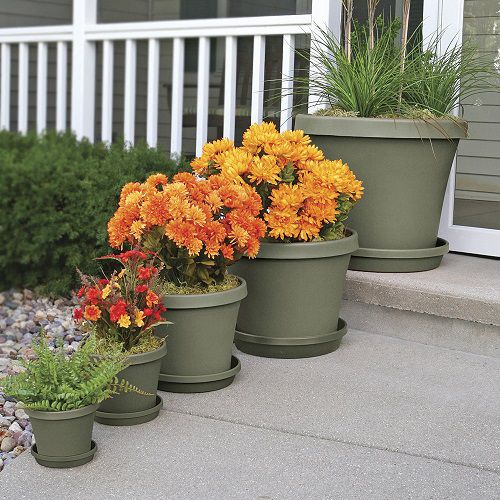 Design a Homey Haven
Use billowing drapes to turn your front porch into a miniature hideaway. During the afternoon, keep the curtains open to welcome visitors into the front extension of your home. At night, let the drapes hang loose to add a touch of extra privacy to your house. Relax in the cozy comfort of a semi-enclosed porch on late evenings chatting with friends.

Shop all drapes & curtains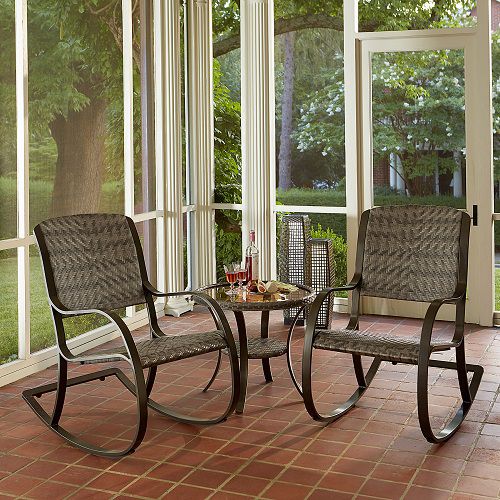 Create a Space Full of Cozy Comfort
If you find yourself sitting on your front porch more often than the back patio, you'll want a esign that fits your needs. Consider a casual seating set, complete with a cushioned loveseat, chairs and a coffee table. Whether you're chatting with the neighbors as they pass or watching the kids play in the front yard, you'll want to be comfortable for long periods of time.

Shop all casual seating sets

Stick with Seasonal Favorites
Change the décor of your front porch to match the seasons and holidays. In the spring, set up a garden paradise with flowers and plants that showcase the new life of the season. Cool off in the summertime with an outdoor cooling system or patio fan and decorate with patriotic pride all season long. Once the autumn weather arrives, you'll be ready for harvest décor like pumpkins, gourds and hay bales. In the winter, place a wreath on your door and decorate with pinecones, evergreens and snowflakes.

Shop all outdoor décor

---
---
---