Outdoor Living Space Ideas
Outdoor Living Space Ideas


Enjoy a day out under the sun as you read a passage from your favorite book or watch the kids play in the backyard. With a fresh and revitalized outdoor living space, you can turn your backyard into an extension of your home. Create an exterior room with furniture, décor and added ambiance. With a few easy ideas, you can easily design the perfect outdoor living space for your home.

1. Create a Secret Garden Escape
Start with a stand-alone pergola covered with climbing plants and surrounded by tall shrubs. Create an arched entryway between two of the shrubs by pruning them so that they grow up and toward each other. Furnish a cobblestone garden patio with all-weather wicker casual seating. Build a small backyard pond with a waterfall for a stunning scene that leaves you breathless.

Shop all pergolas | casual seating sets

2. Design a Rustic Campfire Space
Set four to six wood Adirondack chairs around an open stone fire pit to give the illusion of a campsite. Tell ghost stories beside the light of a flickering fire, and finish the evening with toasted marshmallows and s'mores. In the morning, snuggle up under a blanket and watch the red embers while you sip on your morning coffee.

Shop all Adirondack chairs | fire pits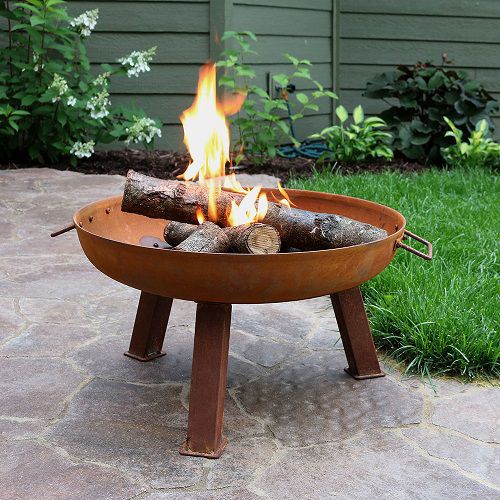 3. Opt for an Outdoor Great Room
Instead of focusing on a single outdoor living room in your backyard, consider turning the patio into its own great room. Combine the tradition of an outdoor dining set, convenience of an outdoor kitchen and comfort of an outdoor casual seating area in one large space. Use a complete set of matching furniture, or piece together your own unique style with various furniture options and decorative accents.

Shop all outdoor dining sets | outdoor kitchens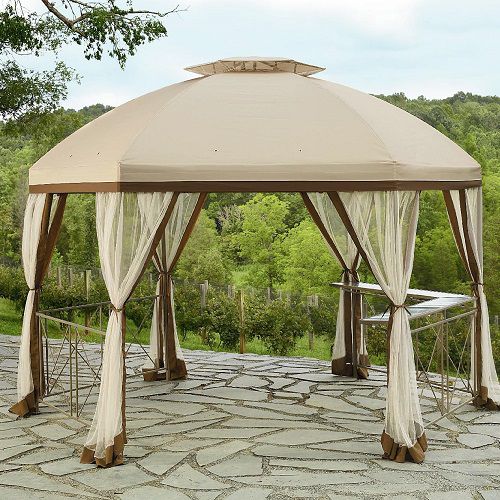 4. Dress Up with Drapes
If you have an outdoor canopy, pergola or gazebo, hang billowing curtains that can encircle your outdoor living space. You can tie them back for an open and inviting atmosphere, or leave them hanging loose for a breezy, casual look. You can even hang drapes from the roof of your porch for a unique ambiance.
5. Return to Simple Romance
Instead of focusing on the flashy décor, revel in the simplicity of your outdoor space. Use romantic lighting to set the scene for a cozy evening in your yard or patio with someone special. Snuggle up on the loveseat underneath the dim glow of outdoor lights. Consider adding large lanterns or a candlelit chandelier that hangs from the ceiling of your gazebo for an elegant and stylish touch that is sure to impress.

Shop all outdoor loveseats | outdoor lighting

---
---
---