Easy Tips for Decorating Your Christmas Tree
Easy Tips for Decorating Your Christmas Tree
Decorating a Christmas tree helps bring out the spirit of the season in everyone, which might explain why this is the only holiday chore the kids want to get in on. There are a wide variety of different themes and styles to choose from, whether you prefer classic designs or modern embellishments. Here are a few ideas on how to make your tree look so festive, that no one will even notice a botched gift-wrapping job or two come Christmas morning.

---
Lit Ribbons
Add both color and light on one string to add extra sparkle to this tree decoration. By investing in lit ribbons, you can save on having to purchase additional strands of lights and cut down on your work time.

Stacked Ribbons
With multiple ribbons or mesh, you can create an alluring spiral effect on your tree. Take one ribbon strand and wrap it from top to bottom, taking note of the spacing so it looks even. Then, take another ribbon or silver mesh and wrap it in the gaps of the first. This stacked effect will create an elegant spiral.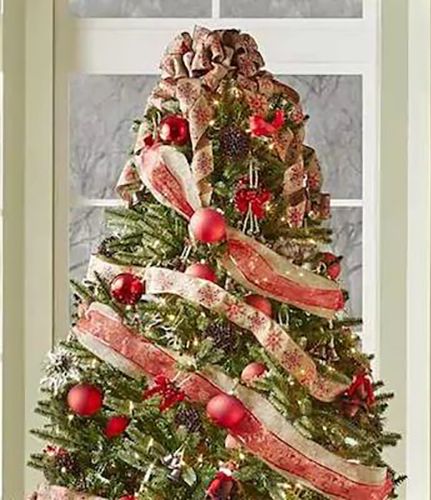 Alternating Ribbons
Instead of doing an even wrap, consider layering the ribbons on top of each other. Alternate ribbons as you move around the tree so the colors switch from top to bottom.

Coiled Ribbons
Instead of stretching the ribbon straight as you wrap, let it fall naturally so to retain its coiled shape. The coiling effect is a great way to add texture and depth for a more intriguing look.


shop all Christmas ribbons
---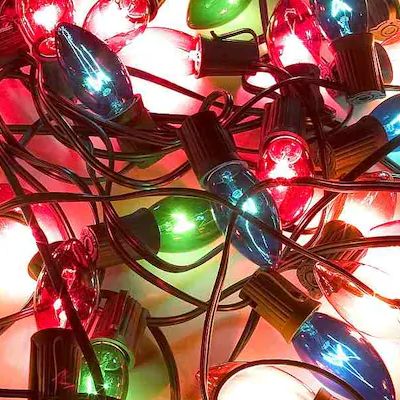 Color-Changing Lights
Adding some eye-catching activity to your tree is simple with color-changing lights. Using an adjustable timer, you can have your tree change from a clear glow to multi-color and back again in seconds. Animating the tree with these lights will make your holiday decor really stand out.

Multi-Color Lights
If you're looking to add some fun to your holiday decorations, multi-colored lights will do just that. The reds, greens, blues and whites will combine perfectly for a cheeky shine. You can even find strings that include additional color combinations, such as purple and orange, for even more variations.

White Lights
For a traditional look, clear white lights will give your tree a dazzling glow. If you're using white lights on your home's exterior, the tree can act as the perfect complement by placing it near the window.


shop all Christmas lights
---
Garland & Tinsel
Garland takes any ordinary tree to the next level. Since branch spacing can be a bit uneven, add a strand or two to help cover those areas. Tinsel is used to emulate icicles, so consider using it on a tree that has a winter or snowy theme.


shop all garland & tinsel


Balls & Globes
These traditional ornaments have come a long way from the standard red and gold of days gone by. Now you can find triple-drop balls, styles with intricate embellishments and more. Put together a variety of looks and place them evenly throughout the tree for a décor that spans traditional to modern.

shop all ball & globe ornaments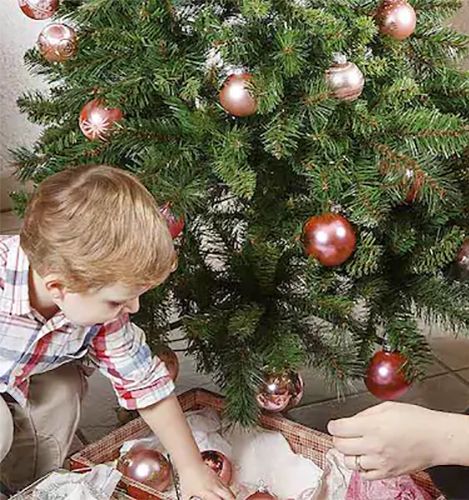 Themed Ornaments
Whether it's a festive red cardinal or a cute puppy in a Santa hat, the sky's the limit when it comes to adding some of your own personality into the seasonal mix. Get the kids involved and have everyone select different pieces, from their favorite animals to their go-to sports team. Even if your little one is overly obsessed with a certain superhero or movie princess, add them to the tree for a little more fun.

shop all tree ornaments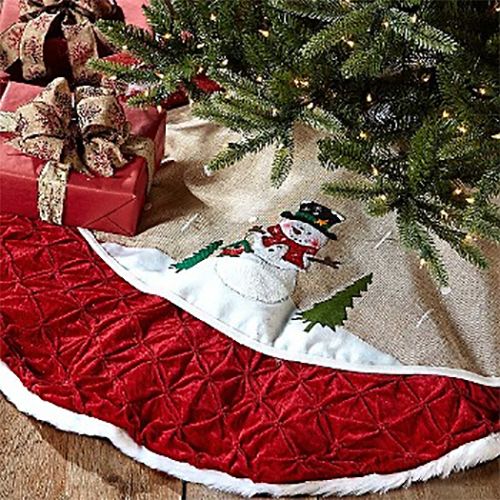 Tree Skirts
Just as you tend to the body and top of the tree, you want to add a little something to the bottom as well. Adding a tree skirt is yet another opportunity to create a cohesive look for your tree, but it's not just for decoration. Tree skirts can be helpful in gathering fallen pine needles if you opt for a living tree, or they serve to cover a perhaps unsightly base or tree stand.

shop all tree skirts

Tree Toppers
Traditional finishing touches like an angel or bright star are a classic crowd-pleaser when it comes to your tree's garnish. If you're looking to spice up the season, consider novelty tree toppers, ranging from Santa hats to gingerbread men, to serve as your family's fun exclamation point to finish off the tree.

shop all tree toppers
---
Keep it even - Regardless of the decorations you choose, make sure to spread them out evenly throughout the tree. It's important to provide visual symmetry when it comes to what will be the focal point of your seasonal decorations.
Mix and match - Don't be afraid to stray from traditional setups, it is your family's home after all. Incorporate decorations that have been passed down through your family with new styles and themes, or blend different color schemes together for a uniquely creative touch.
Secondary trees - Find smaller, artificial trees to decorate, and place them throughout your home to create a cohesive look. These also offer the perfect place to test out other themes and styles to use on the main tree next year.
Personal touches - You may feel like there's a certain process to follow in decorating your tree, but the holiday season is about gathering with loved ones. Let your tree be an extension of yourself and your family.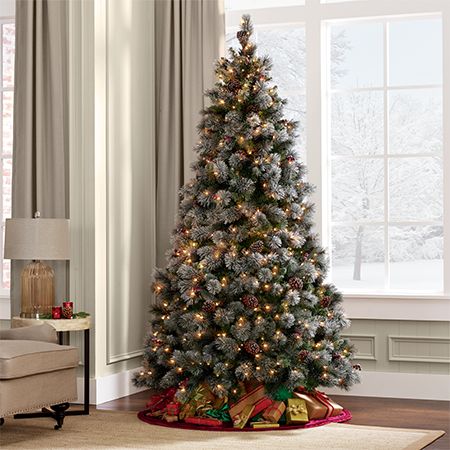 ---
---
---