Christmas Tree Safety Tips to Remember This Year
Christmas Tree Safety Tips to Remember This Year


Let's be real! No home is ready for the holidays until the tree is up and trimmed to perfection. Whether it's a live tree or an artificial model, safety is always key. Before you put up the tree this year, take some time to make sure everything is safe and sound. Here are some safety tips to remember when trimming and maintaining your Christmas tree this season.


Keep it Fresh
If you're going to put a live tree in your home, it's best to go with the freshest available. Fresh trees will keep their lush, green color longer and pose less of a fire hazard.

Don't Make it Thirsty
Make sure to water a live tree regularly to keep it from drying up. If you put your tree in a very warm room, consider refilling the water daily. Also, before setting up the tree, remember to cut into the trunk a few inches from the base of the trunk so it hydrates properly.

Keep the Fire in its Place
When picking out an artificial tree, it's important to make sure that it is clearly marked as being fire resistant.

Clear the Cord
It's a good rule to have no more than three strings of lights plugged into one extension cord. Once you're set up, move the cord along the wall and out of regular walking paths to reduce tripping hazards.

Hit the Lights
Once the festivities are over for the night, don't forget to turn the lights off at night. That way they don't build up heat all night long. Also, if there's a short, you can quickly take care of the situation.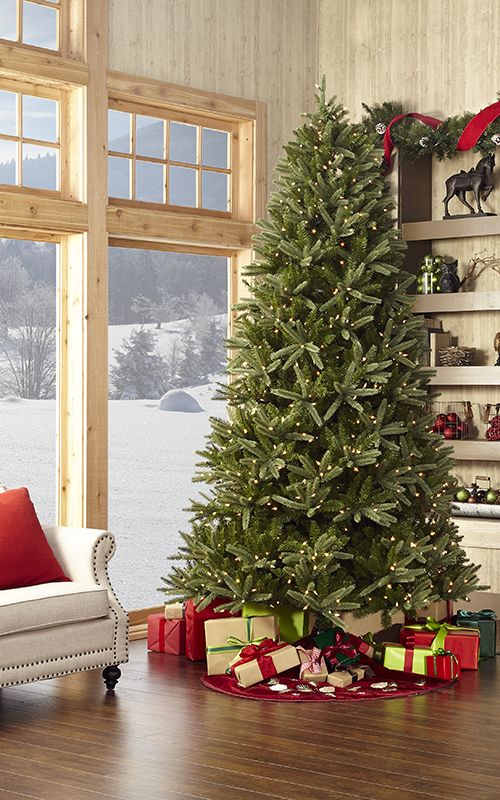 Stay Standing
Make sure to get the proper tree stand for the size of tree you have. The taller the tree, the wider the base needs to be. This will ensure that the tree is stable and won't be knocked over.

Time to Go
Unfortunately, every holiday season has to come to an end. When you notice that the tree is drying out and is losing needles quickly, make sure to dispose of it properly. A very dry tree is a fire hazard that can be easily avoided.



shop all artificial trees, ornaments, skirts, stands, lights
---
---
---
---