Hanukkah Fare with Modern Flare: Potato Latkes with Smoked Apple Sauce
Hanukkah Fare with Modern Flare: Potato Latkes with Smoked Apple Sauce


The menorah is stocked with fresh candles, you snagged some great gifts but you still need to whip up some great tasting food to satisfy those grumbling tummies. Our friends at Kenmore and Chef David Blonsky whipped up with some great fresh takes on Jewish classics. With some great food and even better friends and family, this Hanukkah will be one to remember.


Homemade Crème Fraiche Ingredients:

Method:
Heat cream to 105 degrees Fahrenheit, whisk in buttermilk and lemon juice.


Place mixture in a bowl and loosely cover with plastic wrap and place in a warm part of your kitchen for 24-36 hours, stirring every 8 hours until the mixture has firmed up.

---
Potato Latkes Ingredients:
3 lbs. Idaho russet potatoes, peeled

3 each large eggs, beaten

2 each shallots, minced 1/4 cup Matzoh meal

T.T. Kosher salt and White pepper

1 bottle vegetable oil for frying


Method:
In a food processor or with a box grater, grate the potatoes. Place the grated potatoes in a bowl lined with either cheese cloth or a kitchen towel and Ring out all the excess water from the potatoes. Allow the water to settle for 10-15 minutes, then pour off the excess water slowly keeping the white potato starch that has settled in the bottom of the bowl. Mix in the shallots, egg, matzo meal, salt and pepper and the grated potatoes.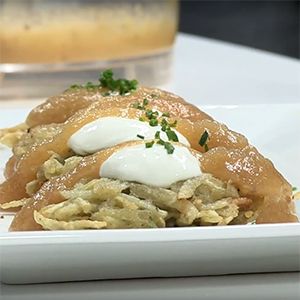 2. In a heavy cast iron pan or a medium lipped pan, add the vegetable oil and place a thermometer in the oil and heat to 325-350 degrees Fahrenheit.
3. Form latkes into hand size balls and then place in oil and smash down to form a disk-like shape. Fry on each side for 3-5 minutes or until golden brown. Remove and place on a baking pan lined with paper towels and season with salt and pepper. Keep warm in oven set to 200 degrees Fahrenheit or serve right away.


---
Smoked Apple Sauce Ingredients:
4 each Granny smith apples, peeled

3/4 cup water

1/4 cup granulated sugar

1 each cinnamon stick

1 ¼ each lemon, juiced and strained

1 cup Hickory wood chips, soaked in water for 1 hour

Method:
Peel and cut the apples into quarters and place in water with 1 lemon squeezed.


With a baking pan place a piece of aluminum foil folded into a 6x6 inch square and place the wood chips on top and cover with a lid. Wait till the chips begin to smoke and then place the apple in a perforated pan that fits in the baking pan and cover with a lid and smoke for 30 minutes.



Remove the smoked apples and place in sauce pot with sugar, water, cinnamon stick and the juice of 1/2 a lemon. Cook until apples are soft to the touch, then remove and run through a food mill. Serve right away or place in a jar and cool before sealing the jar.



---
---
---