3 Sweet Holiday Decorating Ideas for Your Front Yard
3 Sweet Holiday Decorating Ideas for Your Front Yard


As the temperature drops, your holiday spirit heats up. Once you've trimmed the tree and have your stockings hung by the fireplace, it's time to transform your home's exterior. Whether you're building a mini version of Santa's workshop or just looking a few decorative accents to ring in the season, here are a three ways to deck the yard for the holidays.


Do you have a basket full of black and white Christmas movies in alphabetical order ready to go when the first snow flake hits the ground? You most likely prefer the traditional decorating route. Traditional holiday decor leans heavily on greenery, ribbons and some lighting. Here are a few ways to give your exterior some olde time holiday cheer.
Electric Candles
Placing electric candles in each window of your home is a classic Christmas decorating idea. These stylish pieces add some cheer to the front of your home without creating too much work. Place a single candle or small bundles in each window that is visible to the street.
shop all Christmas window candle lights

Wreaths
A wreath is a classic piece that can be lit or unlit depending on your preference. You can place one on the door or small ones in the windows. Some options even fit perfectly around exterior lights. No matter where you place them, these decorations always add a stylish touch to any outdoor holiday display.
shop all Christmas wreaths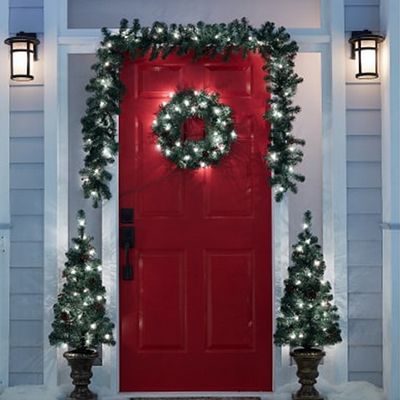 Red Bows
Simple and elegant red bows are a classic look that never goes out of style. You can hang one from the door in place of a wreath and put one on the mailbox. It's simple and turns your home into a gift. For a special touch, consider adding bows to your porch lights or exterior lights that hang by the garage.
shop all Christmas bows

Garland
A little greenery around lamp posts, porch railings and other areas is great way to add a festive accent that will give you a more complete look. Go with basic green garland, or choose something with extra embellishments like lights, sequence and ribbons.
shop all Christmas garland
---
If you're someone who like to keep things neat and tidy, then a minimalist theme might be for you. This style typically utilizes lighting that accentuates specifc pieces of your landscape, adding the perfect amount of yuletide spark.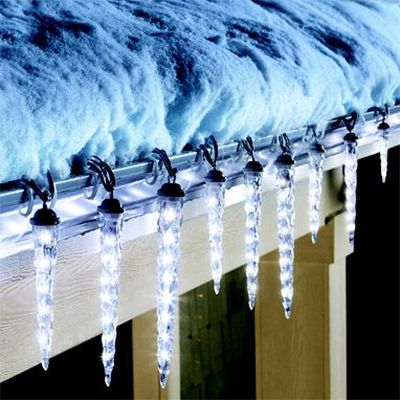 Icicle Lights
These types of outdoor lights add some extra flair to a traditional display. By hanging loosely from a porch or doorway, they give your home a wintery touch. If you're really ambitious, maybe hang some above your garage or on the gutters.
shop all icicle lights

Bush & Tree Lighting
Lighting your trees and bushes gives the front yard a beautiful glow. You can opt for traditional strand lighting or net options. Net lights require little set up on bushes or shrubbery. Just to toss the net over the bushes and move the limbs around to make sure the lights are visible.
shop all Christmas tree lights & net lights
Small Trees
Topiary trees are perfect for outside entryways and at the end of the driveway. They provide a warm and welcoming entrance to your home. Plus, these pieces come in a variety of styles to keep them in tune with the rest of your holiday decor.

shop all topiary Christmas trees
---
Whether it's an inflatable snowman or a hi-tech light show, not much is off limits for a modern holiday design. You'll want to add in some multi-color lights that drape over anything and everything. Add in some your favorite movie and TV characters to the mix, and your display will have some extra-special winter magic.
Christmas Inflatables
If you want to cover a large, open spot on the lawn, a Christmas-themed inflatablea is a cool choice. An inflatable Santa, snow globe or penguin are sure to be a hit in your front yard. This decorative piece comes in hundreds of fun shapes and designs to match your desired festive aesthetic.
shop all Christmas inflatables

Projector Lights
These types of lights are great alternative to string models. A projector light uses a single or multiple beams to project a pattern on your home. There are a wide variety of cool and colorful themes to fit your setup, ranging from snowflakes to multicolor spots.
shop all projector lights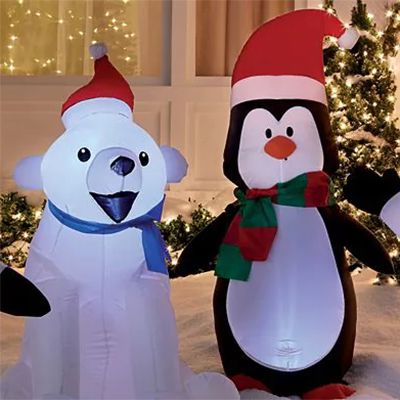 Multi-Color Lights
A splash of color to your lights will really have your home shining bright. They come in standard and blinking styles depending on your want. You can even find multi-color strands with large bulbs for a splash of retro style.
shop all multi-color Christmas lights

Light-up Statues & Lawn Figures
Whether it's a cute polar bear playing in the snow or a reindeer munching on some grass, there are a wide variety of cute animals that can fill the entire lawn. Aside from animals, you can also find toy soldiers, Santas, snowmen and other festive figurines to fit any theme.
shop all Christmas lawn figures
---
---
---