3 Sweet Holiday Decorating Ideas for Your Front Yard
3 Festive Holiday Decorating Ideas for Your Front Yard



As temps start to drop, holiday spirit heats up. Once the inside of your home looks like Santa's workshop, it's time to make the outside match. Whether you're going for a simple look or hoping to crush your neighborhood rivals, here are three ways to deck the (outdoor) halls for the holidays.

---
Do you have a drawer full of black-and-white Christmas movies in alphabetical order ready to go when the first snowflake falls? You most likely prefer the traditional route. This timeless style leans heavily on greenery, ribbons and some good old-fashioned lights.

Electric Candles
Electric candles in each window is a classic Christmas tradition. These stylish pieces add cheer to the front of your home without creating too much work. Place a single candle or small bundles in each window so that they're visible on the street.

shop all Christmas window candle lights

Wreaths
Wreaths are a can't-miss piece that can be lit or unlit depending on your preference. Hang one on the door or small ones in the windows. No matter where you put them, these decorations always add a stylish touch to any outdoor display.

shop all Christmas wreaths


Red Bows
Hang simple red bows from the door in place of a wreath or put one on the mailbox. It's a simple way to make your house itself look like the present. For added cheer, throw a few more on your outside lights for an extra pop of festive red.

shop all Christmas bows

Garland
Make the Joneses green with envy by wrapping some garland around lamp posts and porch railings. Go with basic green garland, or choose something with extra embellishments like lights, sequins and ribbons.

shop all Christmas garland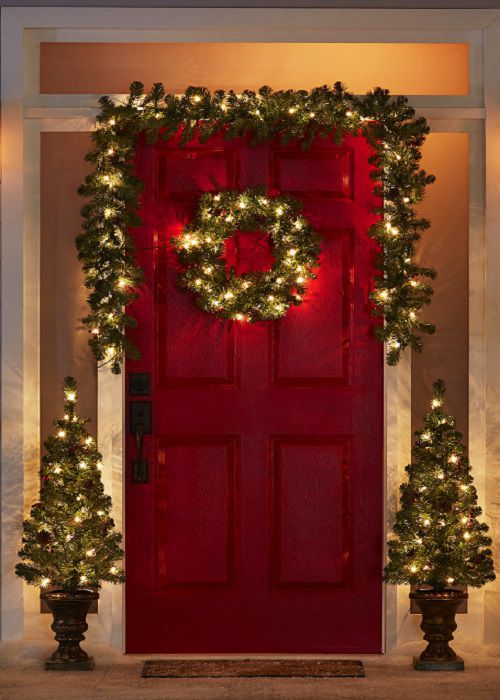 ---
If you're someone who likes to keep things tidy, a minimalist theme might be for you. This decorative style largely uses lighting that accentuates specifc pieces of your landscape, adding the perfect amount of yuletide spark.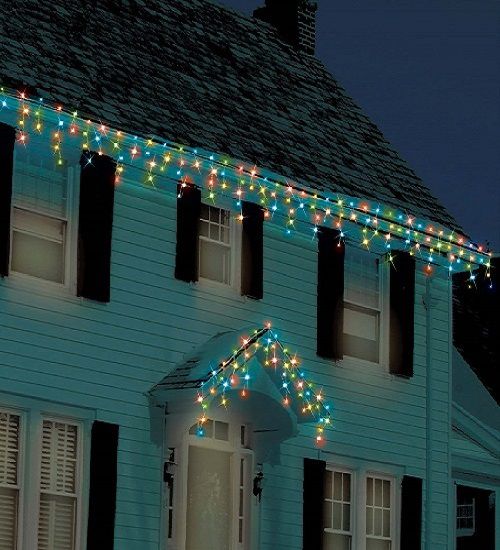 Icicle Lights
Bring a winter wonderland to life even if it hasn't yet snowed. Hanging icicle lights from a porch or doorway gives your home a cheerful chill. If you're really ambitious, hang some above your garage or on the gutters to round out your cool look.

shop all icicle lights

Bush & Tree Lighting
Lighting your trees and bushes gives the front yard a beautiful glow. Go for traditional strand lighting on trees, but save precious time with full nets over bushes and shrubs. The whole block won't have to know that you spent half as much time on lights as they did.

shop all Christmas tree lights & net lights


Small Trees
Topiary trees are perfect for framing entryways to the driveway and house. A little winter foliage goes a long way in setting the stage. Plus, these pieces come in a variety of styles to keep them in tune with the rest of your holiday décor.

shop all topiary Christmas trees


---
From inflatable snowmen to a hi-tech light show, take this opportunity to make your house internet famous. Shove Christmas down the street's throat and make passers-by want to stop their car for pictures.

Christmas Inflatables
If you want to cover a large spot on the lawn, a Christmas-themed inflatable is always a crowd pleaser. Snow globes, Santas or snowmen are sure to be a front-yard hit. This style comes in hundreds of fun characters and designs, so you can really get personal.

shop all Christmas inflatables

Projector Lights
These lights are great alternatives to traditional strands, and they won't require you to spend hours on a ladder in the cold. Stake the source across the yard, and enjoy the patterns of colorful or wintery beams projected onto the front of your house.

shop all projector lights


Light-up Statues & Lawn Figures
Whether it's a cute polar bear playing in the snow or a snowman greeting guests, there are tons of characters to fill an entire lawn. Give your display some all-day motion with waving Santas or running reindeer.

shop all Christmas lawn figures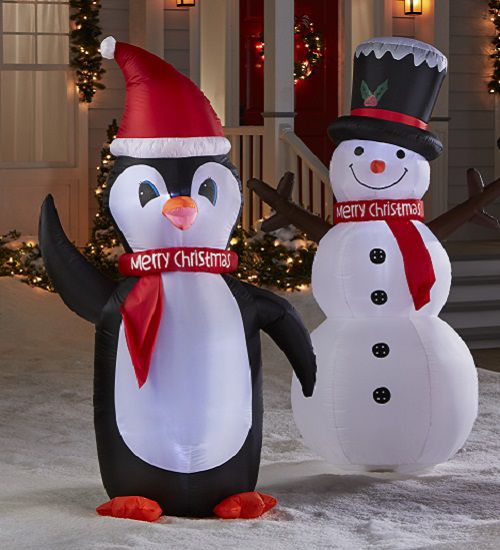 ---
---
---