Then & Now: Musical Instruments & Toys
Then & Now: Musical Instruments & Toys

Admit it. When you were a kid, you wanted to be a rockstar or world class musician. And now that you have kids of your own, they probably have similar aspirations. Whether they dream of shredding through major riffage before millions of screaming fans or spearheading the next dance craze in the club, there are plenty of instruments and toys to satisfy their creative juices. In fact, Sears has catered to budding musicians for generations. Take a walk with us down memory lane as we look back at some of the zaniest and most popular instruments to ever appear in the Sears Wish Book.

Howdy, Partner!
Kids have been captivated by the American Wild West for well over a century. The idea of a ragtag group of cowboys crossing the untamed frontier among breathtaking landscapes stirs something deeply within all of us. For those who grew up in the era of popular singing cowboys like Roy Rogers and Gene Autry, the iconic images of the Wild West are even more vivid.
Some may even recall signature Autry guitars, like the ones sold in the 1942 Sears Christmas Book. Aspiring crooners could even accessorize their guitar and build their repertoire with the "Songs Gene Autry Sings" book, featuring classics like "Back in the Saddle Again," "Tears on my Pillow" and "Be Honest with Me."




The Original Garage Band
Before playing in a garage band meant that you were binge gaming in front of a TV for hours on end with like-minded introverts, rebellious kids were irritating their parents on a whole other level with real instruments. Thanks in no small part to a particular group of mop-topped British lads, musicians on this side of the pond were just as eager to pick a guitar and bass or jump behind a drum kit to jam out some tunes. Sears carried all the supplies aspiring rockers needed to shake the house and rock the stage.
---


The One-Man Band
In the early 80s, electronic instruments were changing the way everyone wrote, performed and listened to music. Melancholy british songwriters were just as likely to incorporate electronic keyboards and guitars into their compositions as outlandish, spandex-clad metal bands, though both were equally interested in the volume of their hair.
Casio keyboards, like those featured in Sears Wish Books from the era, included a dizzying array of preprogrammed rhythms, instrument tones and recording capabilities, making it simple to learn or compose songs nearly anywhere.


Yo! It's RAPMAN
Another revolution in music took the world by storm in the early 90s as hip hop and rap dominated the airwaves. Equipped with a new poetic sensibility and musical accompaniment that lent itself well to the DIY ethos that has only grown in popularity over the years, young musicians would find means of expressing themselves more accessible than ever. Enter Casio's RAPMAN. "The world's first keyboard made just for rap" was featured in the 1991 Sears Wish Book and included a "scratch disc" to emulate the sound of a vinyl record being manipulated by a DJ alongside a built-in microphone. Newcomers could jump onto the scene even faster with the RAP TRACKS accessory kit, which included a song book, instructional cassette (what people listened to before CDs) and sunglasses, all designed to help you "look and sound your coolest."

---
These days it's all about the computer. Innovative new software, sound boards and digital instruments have made it easier than ever for musicians of all ages and experience levels to experiment with sound. Whether you prefer EDM, hip hop or indie rock, there isn't a genre that hasn't been influenced.
This holiday season, Sears has everything you need to make music from a home studio or on the road. From speakers and audio accessories to DJ equipment and sound boards, there is a wide variety of cutting-edge gear and technology to help you create a unique twist of the lastest tracks.
No. It's not as sweet as a RAPMAN or as traditional as what you've seen in past Wish Books. But these pieces of equipment give you all the possibilities to make music and memories to last a lifetime.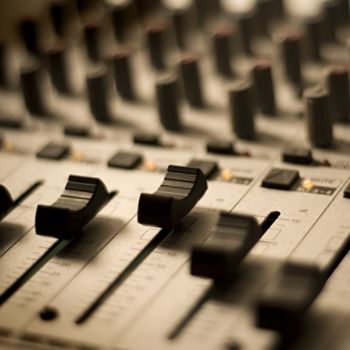 ---


More Wish Book Then & Nows

---
---
---
---