Top Holiday Appliance Emergencies & How to Solve Them
Top Holiday Appliance Emergencies & How to Solve Them



Oh no! You're getting ready your big Christmas party, and one of your appliances decides to be less than helpful. Don't stress (or at the very least stress less)! There are a number of quick appliance fixes that can help get you out of a few jams. Let's take a look so you can get back to enjoying these fun times and the tasty treats that come with them.

It Smells Like Burning…
You're preheating the oven and it starts to smell a little burnt. You don't want those smells and flavors to affect your dish, so you'll need to do a quick clean. Let the oven cool completely, then whip up an equal parts mixture of baking soda and dish soap. Use this to scrub stuck on spots and clean up crumbs and other debris.

Locked Out
If you go to open the door of your oven and it's locked, there is a quick fix. Simply press the STOP/CLEAR button and then start the self-clean cycle. After one minute, press the STOP/CLEAR again and you should be able to get into the oven.

Locked Open
In this instance, you'll need to trick the oven into thinking the door is closed. To do this push in the plunger switch inside the door opening. With the switch pushed, start the self-cleaning cycle. While still pressing on the switch, wait one minute and then press STOP/CLEAR.

Dishwasher Won't Open
Start by pressing and holding the HEATED DRY key for five seconds. If that doesn't work, the control could be defective. In that case, you'll need to perform a more model specific repair.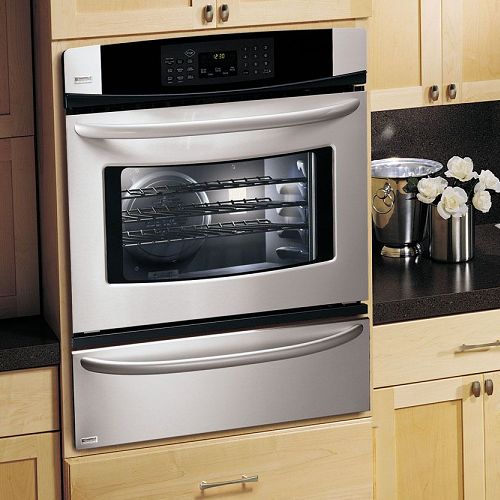 Sabbath Mode
Some ovens are equipped with Sabbath Mode override the 12-hour shutoff feature, that lets you turn the oven on before Sabbath starts and turn it off when Sabbath ends. An oven in Sabbath Mode displays the code "Sab ON" or a similar code. Here are some common methods for canceling Sabbath Mode:
Press and hold down the CLOCK button for five seconds.

Press keys on the number pad in a specified order. Many ovens use the sequence "7, 8, 9, 6" to turn it off. Check your manual to find your model's specfic numerical sequence.

Press the "COOK TIME" and "DELAY START" buttons at the same time. Wait three seconds before releasing.

Check out more helpful appliance repair tips here.

---
---
---