How to Buy an Artificial Christmas Tree: Everything You Need to Know
How to Buy an Artificial Christmas Tree: Everything You Need to Know



You've wrapped the gifts and hung the stockings by the chiminey with care. Now it's time to add the final, most spectacular centerpiece to your home's decor: the Christmas tree. Sure, you could pick out a real tree from the lot down the street. But let's face it. Your family doesn't have time or energy to maintain a real one.
The latest artificial trees save you the headache of maintaining a real tree, and they have all the trappings to make everyone go "ooh" and "aah." Before you make a decision, here are some types and features to consider when buying an artificial Christmas tree.


Full-Size Christmas Trees
A full-size tree looks like a real tree. It's filled out and rounded to create a realistic look.
Medium to large houses - A full-size tree is perfect for medium to large houses. This option will fill the space and give you the feel of a natural Christmas tree.
Multiple options - If you grew up with natural trees, a full-size, artificial model will give you the option to choose between many designs, including a Dunhill Fir or a Colorado Spruce. You can also find downswept and other variations to get the specific look and feel you desire.

shop all full-size Christmas trees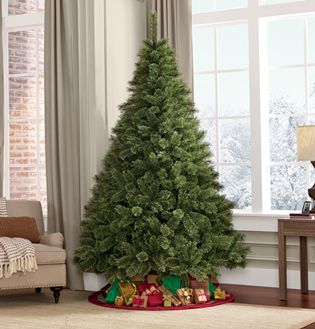 ---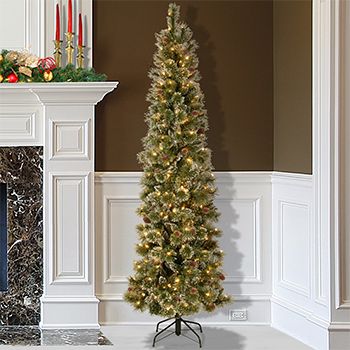 Slim Christmas Trees
If you're low on space and don't want to take up a wide radius, a slim tree will fit into nearly any space.
Apartments - In a two bedroom apartment, a slim tree will let you create the Christmas scene from your childhood, without taking up valuable floor space.
Foyer tree - Placing a slim tree in your entryway is a great way to add some extra Christmas cheer around your home.
shop all slim Christmas trees
---
Half-Wall Christmas Trees
When you need the ultimate in space-saving, a half-wall model will take up little space while still helping you deck the halls.
Studios & one-bedroom apartments - A half-wall tree is perfect for fitting into a corner or wherever you have extra space. However, it still creates the illusion of a full tree.
Ideal for other rooms - If you own a large house, this makes a great secondary tree. Whether it's a bedroom or the dining room, a half-wall option is a great way to add extra holiday cheer throughout the rest of your home.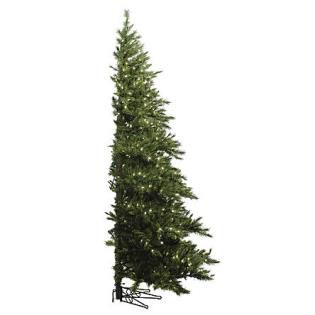 ---
When you're looking for a tree, there are three common styles to consider: pine, fir and spruce. Below is a breakdown of each.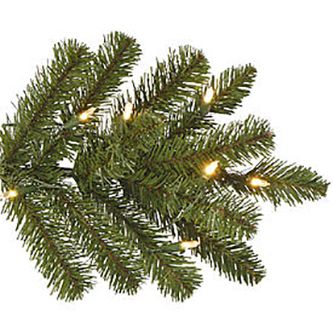 Fir
Fir trees have needles that sprout individually on the stem. They're the most common style on the market because they tend to have a fuller, more complete look.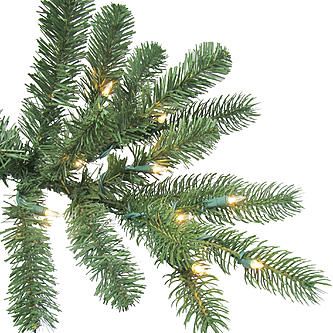 Spruce
Like fir trees, spruces have needles that sprout individually on the stem. The biggest difference is that the needles are four sided and pointy. Luckily, artificial options aren't nearly as sharp as the real thing.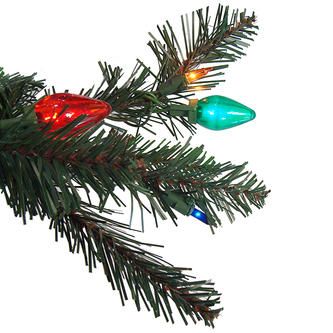 Pine
Pine trees have thinner needles that tend to be in groups of two, three or five. Some artificial pines even mimic the natural aroma that real ones have, which is always a plus.
---
Features of Artificial Christmas Trees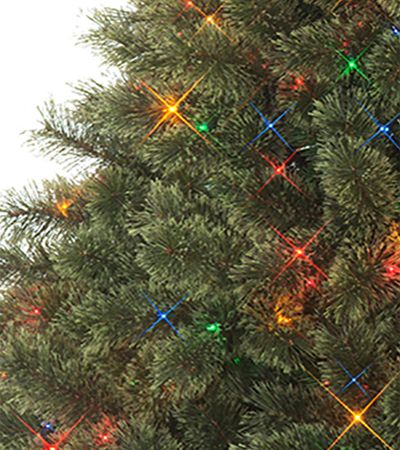 Pre-Lighting
Some Christmas trees come with lights already wired onto the branches. This makes set-up much easier, allowing you to avoid the headache of untangling and stringing lights perfectly onto the tree. Here are some types of pre-lit options:
Clear lights - Clear lights emit an elegant glow to accent the ornaments you hang on the branches.
Multi-color - Multi-color lights are a great way to update the look of your standard Christmas decor. They'll give you a range of brilliant colors to give new life to your holiday.
Color-changing - Get the best of both worlds with a color-changing model. The press of a button will let you go from standard clear to multi-color. Some even allow the lights to cycle through colors on a timer.

Steady, chase & twinkle lights - So what are the differences between these three? Steady lights stay, well, steady. They don't blink or move. Chase and twinkle lights, on the other hand, add a little extra flair to your tree. Chase lights make it look like light is traveling throughout the strand, while twinkle lights flicker light on and off continually on each bulb.
---
Colors
Green - You can find different types of artificial Christmas trees that range from a light green to a darker green. The shade will depend on the style of tree it's mimicking.
Flocked (white) - Give yourself a white Christmas with a flocked tree. Flocked designs create the vibe of a "recent snowfall" in your living room.
Other colors - Typically seen on tabletop trees and other small trees, you can find anything from purple to silver. These fun accent trees spice up the color of your space.

Tree Assembly Options
Three-piece - Trees that come in three pieces make installation a snap. Simply place the base down and then stack the other two on top.
Full assembly - These types of Christmas trees require you to screw the post together before inserting each branch individually. Although it takes more time, you have more say over how full you want the tree based on your space or personal taste.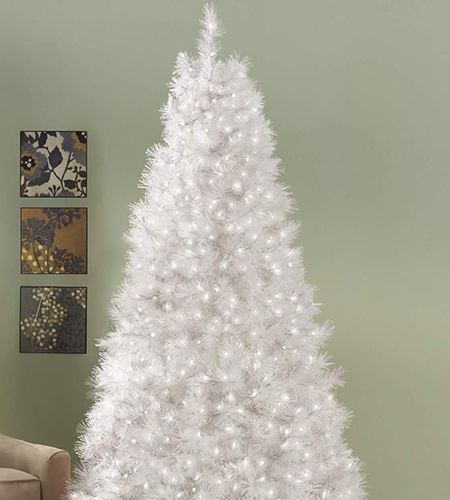 ---
Standard Tree Sizes & Tips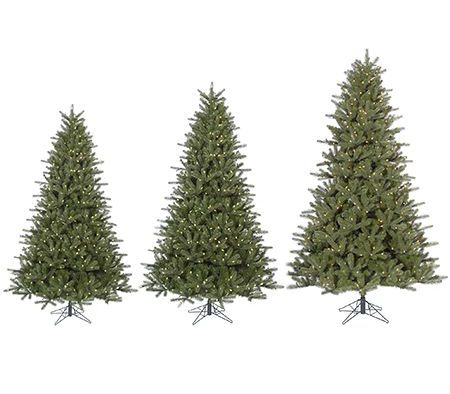 6-7 foot ceilings - A 5.5 feet tree will keep you from brushing the ceiling and leave enough room for the tree topper. These are perfect for small spaces and apartments.
8-9 foot ceilings - A 7.5 foot tree will give you enough height without being too much tree. These options are best for homes with standard size ceilings.
Ceilings 10 feet or higher - A tree 9 feet and taller will fill your space adequately and not leave it feeling empty. This tree will fit great in rooms with vaulted ceilings or large foyers.
Height considerations - The general rule is to leave half a foot between the top of the tree and the ceiling. When making a decision, remember that the tree topper and base add height.
Width - It's a good rule to leave at least 3 inches between the branches and the walls around them. This gives you enough room to hang ornaments and lights. A slim model of the same height is a good solution in tight areas.
---
---
---