7 Halloween Decorating Ideas for Your Home
7 Halloween Decorating Ideas for Your Home


Halloween is one of the best parts of the fall, and decorating options are plentiful. Whether you love to create a harvest atmosphere or spooky setting, there are many ways to make your home stand out both inside and out. Feeling a bit overwhelmed by all the options? No worries! We have seven easy Halloween decorating ideas for you to try out.


Decorate Your Walls and Ceilings
Adding some decorations on your walls helps put everyone in the Halloween spirit. Put up some Halloween-themed pictures, or hang ghosts and fake spiders around different walls throughout the house. If you're throwing a bash, consider hanging faux bats, skeletons, ghosts or other pieces from the ceiling to set a spooky mood.

shop all Halloween wall decor

Adorn Your Windows
If you're looking for quick and simple decor, put up some decals. You'll find a wide selection of gel and plastic clings featuring spooky or cute characters that are perfect for little ones. For a major Halloween enthusiast, consider hanging up posters or silhouettes that everyone outside can see.

shop all Halloween window decor

Go with a Harvest Theme
If you don't like a scary theme, add harvest flair to your home when autumn rolls around. Hang a festive wreath on your door that matches the colors of changing leaves. You could also place special fall centerpieces and tablecloths on your kitchen and dining room tables. Think about using tablecloths in red, brown or orange tones that fit the season. Some styles even feature colorful patterns of leaves, pumpkins or other fall-themed imagery to get everyone in the spirit.


shop all harvest decor
Create Spider Webs
Whether you place them on a table or in your window, fake spider webs always create an eerie feeling in your space. While there are many faux options available, you can easily make your own with a few household supplies. Stretch out multiple pieces of cotton batting until they resemble cobwebs. Use invisible tape to hold down pieces on a table, in your windows and around the walls. Kick it up a notch by adding plastic spiders in the webs to really frighten guests.

shop all fake spider webs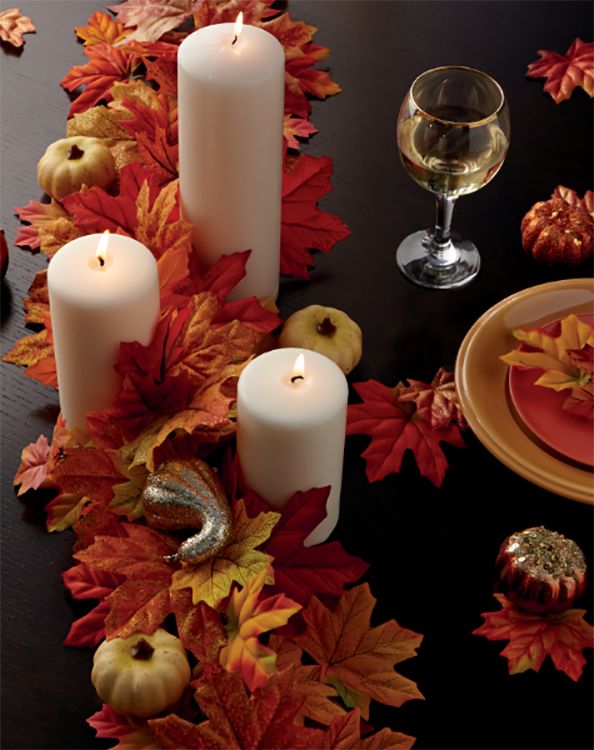 ---
Put Out Carved Jack-O-Lanterns
Pumpkin carving is always a fun Halloween activity, so why not show off your artwork? Carve out some silly or scary faces, and add the pumpkins to your front yard display. Put them on the porch or in another spot where everyone can see your creations. If you have the right amount of space, line up multiple pumpkins along the pathway to your door. To create an eerie feeling at night, make sure each one has a small LED light inside to give off a mysterious glow.

shop all pumpkin carving kits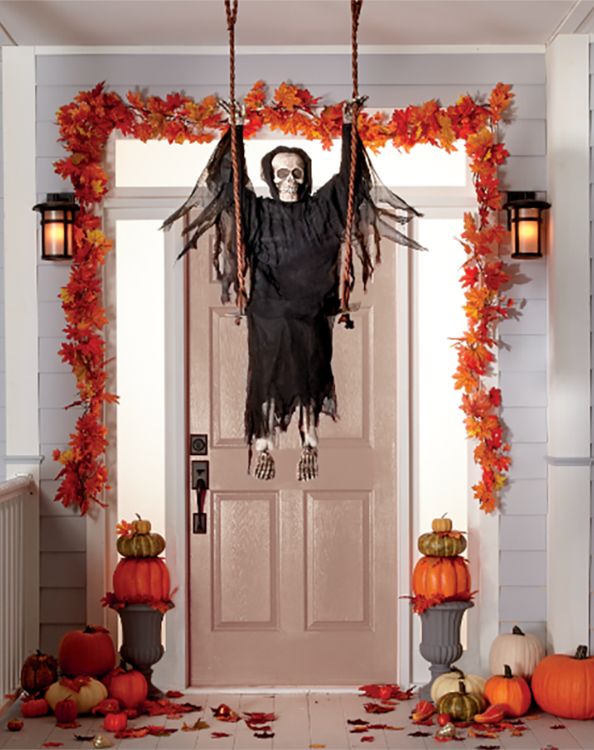 Add Figurines & Statues
Life-size figurines can add a nice touch to your yard. Stake down a zombie or mummy on the lawn, or place a fake vampire in a lounge chair on the front porch. If you're really ambitious, hang up some ghosts, ghouls or skeletons in your trees so they sway in the wind. This setup is sure to frighten trick-or-treaters that come to the door.

shop all outdoor Halloween decorations


Make Fun Light Displays
There are many ways to create illuminating displays. Put up some inflatables of giant pumpkins, ghosts, spiders, witches or other Halloween-related characters on your lawn. Also, light up the house like you do for Christmas. Hang some string lights around your home, and string smaller strands in your bushes and trees. Think about mixing and matching colors like orange, green, purple and white to fit your inflatables and other decor.

shop all Halloween lights | Halloween inflatables
---
---
---