5 Themes for Your Halloween Party
5 Themes for Your Halloween Party


If you love throwing parties, Halloween is a can't-miss opportunity to get into the autumn spirit. Whether you're looking to scare your own friends or host a pack of miniature monsters, incorporating a standout theme will make the festivities all the more enjoyable. Here are some frighteningly fun Halloween party themes to consider this year.

Autumn Harvest
If you're looking for something a little less scary, get into the spirit of fall with an autumn harvest theme to compliment the changing season. By foregoing an exclusively Halloween look and feel, you don't have to wait until the end of October to get together with family and friends.
From brightly-colored leaves to sunflowers, gourds and pumpkins, decorate your home in the natural visuals of fall to mirror the beautiful transformation outside. Hang wreaths, place table centerpieces and light-scented candles to add a cozy aroma to your gathering.

shop all harvest decor
Haunted House
The classic crowd-pleaser when it comes to Halloween is a good old-fashioned haunted house. Whether you set aside the garage, backyard shed, basement or living room, focus on an area and really transform it into a totally spooky space.
Small children may not like anything too scary. You can keep it simple with some of the basics. Hang ghosts from the ceiling, fake spider webs near the doorways and black and orange lights on the walls. Consider placing plenty of jack-o'-lanterns around the room and on tabletops. If you're looking to impress older kids or adult friends, go all out by adding a fog machine, strobe lights or full-sized monster figures. No matter the level of terror, a haunted house is a surefire good time for ghost and ghoul enthusiasts of all ages.

shop all Halloween decorations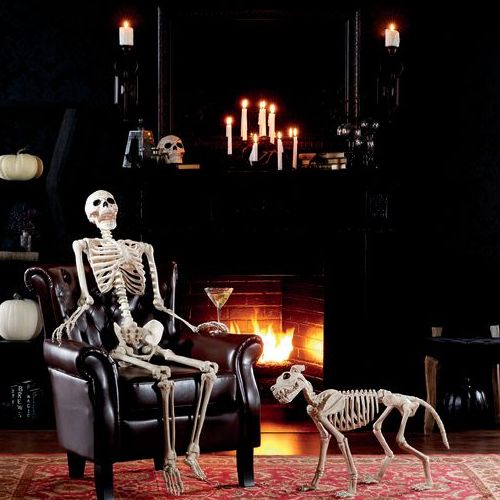 Fall Fair
If the weather is still pleasant and you're looking for some outdoor fun, host a fall fair in your yard or neighborhood park. Great for young children who aren't crazy about the spookiness, spend the day enjoying autumn festivities with your little ones and their friends.
One of the best parts of the season for kids is making their very own jack-o'-lantern. Offer simple design ideas or stencils for kids to carve or paint funny or spooky faces into their pumpkins, and display them prominently throughout the day. Set up a face-painting station with some basic Halloween makeup, and draw ghosts, pumpkins or bats to get children into the spirit. If you want to get your older kids involved, add some animated figures or other outdoor decorations to the party. Lastly, be sure to set out some candy. After all, that's what kids really want during this time of year.

shop all pumpkin carving kits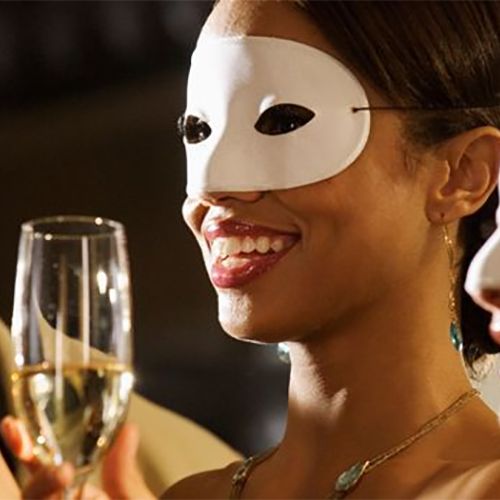 Masquerade Ball
This Halloween party theme is always a favorite for adults. Give guests a simple yet elegant theme that will make it easy and fun to do so. Throwing your own masquerade ball gives attendees a clear outline of what they should wear, and transforms the evening into one of magic and mystery.
A masquerade ball can turn an ordinary party into a classy affair where you can get dressed up for an evening. Include plenty of soft white or yellow lighting to set a calming atmosphere, and put out lots of flowing fabrics on tables and near windows to give a whimsical feel to the room. Create an even more intriguing mood with classical yet ominous music to get everyone in the Halloween spirit. Lastly, if you want the masks to have a similar style or color scheme, set up a table near the entrance with a variety of masks that your guests can choose to wear.

shop all Halloween masks
Murder Mystery
If you want to throw a shindig that's a little livelier, consider hosting a murder mystery party. This not only gives you an excuse to host a seasonal get-together, but it also gives your guests the exciting task of solving a thrilling whodunit.
Choose a pre-made game, or create your own unique story. Make sure to give your guests new names, personalities and outfit suggestions so they can really get into their roles. Remember to pick a theme, such as the roaring 20s, Wild West or high school reunion, and create your cast accordingly. Intertwine each character's lives with backgrounds, relationships and surprises and secretly choose the culprit. At the end of the party, have your guests try and guess who the culprit is, and offer a fun prize to the winner.

shop all Halloween accessories
---
---
---