Ways to Use Pumpkins around Your Home
Ways to Use Pumpkins around Your Home


Pumpkins and autumn go hand in hand. Whether you're carving out a spooky jack-o-lantern or simply decorating for fall, a bright orange pumpkin is a must. Aside from being fixtures on the front porch, they actually have many other uses during the season. From tasty ingredients to lovely centerpieces, here are some ways you can use pumpkins around your home.


Cook Up a Storm
Pumpkins are delicious, especially when you put them in warm bread or a hearty stew. You can get creative with your recipes and surprise the family with a delicious spread of cookies, risotto and pecan pie squares. Looking for a healthy alternative? Pumpkin smoothies make a great snack or breakfast throughout the season. Consider using the seeds with oats and dried fruit to make delicious granola.

Get Creative
Tiny pumpkins make for cute placeholders or giveaways at a party. Tie little notes with string to the stem or write directly on the pumpkin. A bigger sized fruit can be used as a vase for a gorgeous floral arrangement. Simply cut off the top, dry it out and place a container inside the hollow, filled with fresh flowers, leaves and berries.
Pamper Yourself
Rich in vitamins and antioxidants, pumpkins can also be used to create skin products that are extremely beneficial for your skin. Mix the puree with milk, honey or cinnamon to make a soothing face mask that will give you a beautiful glow in no time. Do you like sweet scents? A touch or vanilla or lavender to a pumpkin scent will calm your nerves and help you to sleep better at night.

Decorate Your Space
Place a group of pumpkins, in different sizes, on your patio or use them to line your stairs. You can also tie tiny pumpkins together to create pretty fall garlands to hang over your entryway. If you cut off the tops, votive candles can nestle inside for a warm and cozy glow around the house. Acrylic paint in bright hues or glossy ribbons are also a great addition to jack-o-lanterns for a pop of festive color.

Go Green
A pumpkin that has been hollowed out will make a great planter for a small potted plant. They can be planted directly into the soil so that they decompose naturally after a few weeks. If you have no other use for your old jack-o-lanterns, the least you can do is send them to the compost pile. Cut up the pumpkins and add them to your fertilizer to ensure a blooming garden next spring.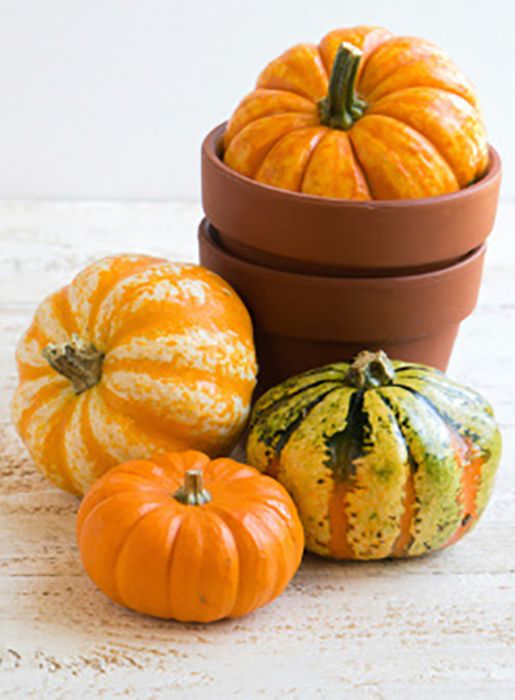 ---
---
---