How to Cook the Perfect Turkey
How to Cook the Perfect Turkey


So the holidays snuck up on you again this year, huh? Well, you're in luck, because we have a fantastic oven-roasted Thanksgiving turkey recipe that you can start and finish in less than a day. Get ready to serve a delicious, mouth-watering bird that friends and family will be talking about for years to come with these helpful tips.

---
1. Build Your Brine
Everybody knows the disappointment of biting into a savory looking slice of holiday turkey only to discover that it's really a chewy, dried-out disaster. Don't serve that bird. A properly brined bird not only helps keep your turkey moist while cooking, but it also helps enrich the inherent flavors.
Build your brine in a large plastic container or stock pot by adding water and seasonings like salt, pepper, thyme, rosemary and citrus. Keep the mixture simple or go bold with bigger quantities and daring flavors. The amount of each ingredient will vary depending on the size of the turkey and the amount of water needed to cover it completely. Once you've added the turkey, water and desired seasonings, store the covered container in the fridge for anywhere from 8 to 24 hours.

2. Dress Your Turkey
After you remove the turkey from the fridge, it's time to prepare it for the oven. Start by letting it sit for roughly an hour and then patting it dry with cloth or paper towels. Layer the bottom of a roasting pan with leftover brine ingredients, like oranges, onions, carrots, garlic and celery, before placing the bird on the rack of the pan.
For extra flavor and moisture, coat the exterior and interior of the skin with a compound butter that consists of butter, herbs and a dash of citrus. Again, the exact quantities of each ingredient will vary depending on the size of your bird, but adding your own unique twist to any recipe is half the fun.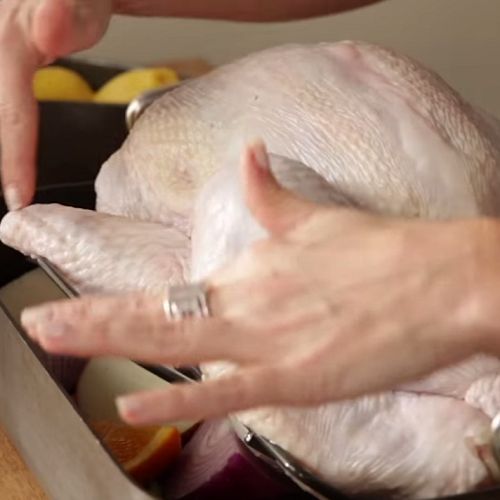 3. Cook & Serve
Preheat the oven to 450 degrees, and reduce the temperature to 350 degrees shortly before adding the buttered turkey. This change in temperature will cause the outside of the bird to crisp and brown beautifully. The appropriate cooking time will vary depending on the size of your bird, but a good rule of thumb is 15 to 20 minutes per pound or until the internal temperature reaches 165 degrees, which you can easily measure with a meat thermometer.
When the turkey is thoroughly cooked, remove it from the oven and let it cool to a comfortable temperature. Prepare a serving platter by coordinating decorative garnishes, which could be the ingredients you used for your brine, or other more elaborate displays. The only limit here is your imagination. After the table is set, call in your family and get ready to absolutely wow them with a delicious, oven-roasted turkey that tastes as good as it looks.
---
Fresh, unfrozen turkey

Onions

Carrots

Celery

Garlic

Salt

Pepper

Thyme

Rosemary

Citrus fruits

Butter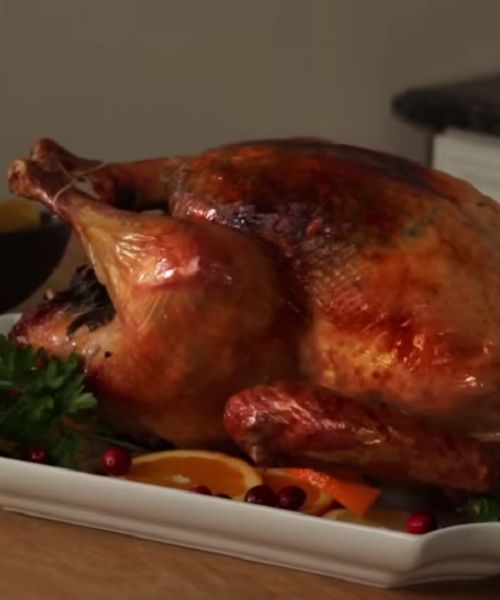 ---
---
---