A Beginner's Guide to Buying a Band Saw
A Beginner's Guide to Buying a Band Saw

You're setting up your workshop and have just about everything you need, but you're missing the perfect tool to create intricate, irregular cuts. That's where a band saw comes in. These saws are perfect for cutting curves, ripping lumber or making crosscuts in short pieces. There are a couple of different types with a variety of great features to help you tackle any project on your to-do list. Let's take a closer look at both so you can find the next great piece to help you slice through wood, metal and plastic.
---
Bench-Top Band Saws
These tough band saws are small enough to sit on top of your work bench to give you space saving cutting power.
Benefits of Bench-Top Band Saws
Compact design - If your workshop is already tight on floor space, the ability to use this on your bench gives you the tool you need without adding to the clutter.

Amateur woodworkers - When venturing into the world of carpentry, a bench model is the perfect place to start. They're typically more affordable and will help you learn the ropes before investing in a more powerful saw.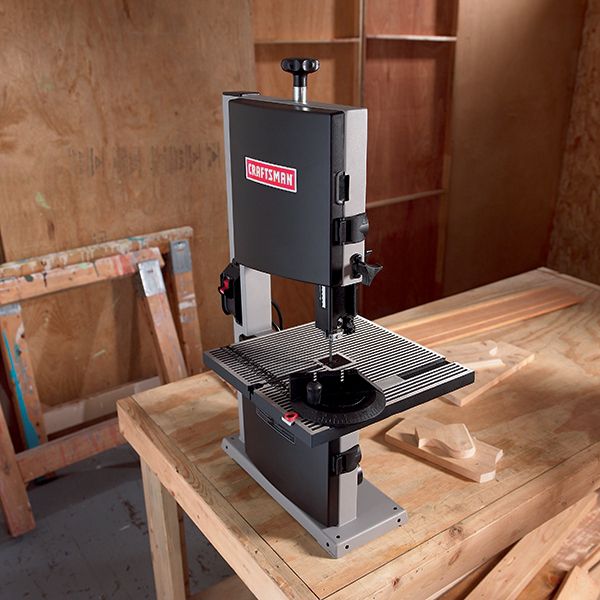 ---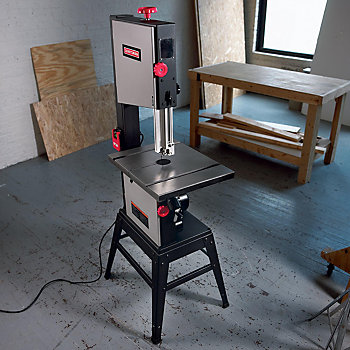 Stationary Band Saws
These band saw models feature a heavy, stationary base to give you the power and stability to tackle large projects.
Benefits of a Sationary Band Saw
Professional woodworkers - A stationary band saw typically has a sturdier, more versatile base than a bench-top model so it can tackle a wide range of projects.

Tough Materials - If you're working with metal or thick plastics, sationary models have the high horse power and large blade length needed to slice through these materials.

---
Saw Wheels

Cast iron - These wheels are heavier and have a tendency to stay in motion easier when cutting through thick stock materials.

Cast aluminum - Weighing in considerably less than their cast iron counterparts, these saws are better if you want a saw that's more mobile and can be easily shifted on your benchtop.
Saw Table Accessories
Tilt - Adjust the table up to 45 degrees to help you make angled cuts a snap.
Miter guide - The integrated miter guide will help you get more versatilty out of your saw.
Dust ports - Connect your shop vac and you can dispatch of sawdust while you work to reduce the amount of cleanup and maintenance you have to perform.
Other Considerations
Throat - This measurement will determine the max thickness of your material.
Quick release - If you change out blades based on material type, you'll want a saw that lets you change out blades in a snap.
Variable cutting speed - The ability to change your speed will help you cut through wood, metal and some plastics.

---
---
---