10 Auto Mechanic Tools Every Workshop Needs
10 Auto Mechanic Tools Every Workshop Needs
Pop the hood and wish for luck, the yellow light is on the dashboard again. Fortunately, there are plenty of tools to help you when fixing or repairing your car. Whether you're replacing a flat, fixing up the engine or doing some body work, you want to get back in the fast lane, fast. Here are the top mechanic tools and devices you need to hit the road.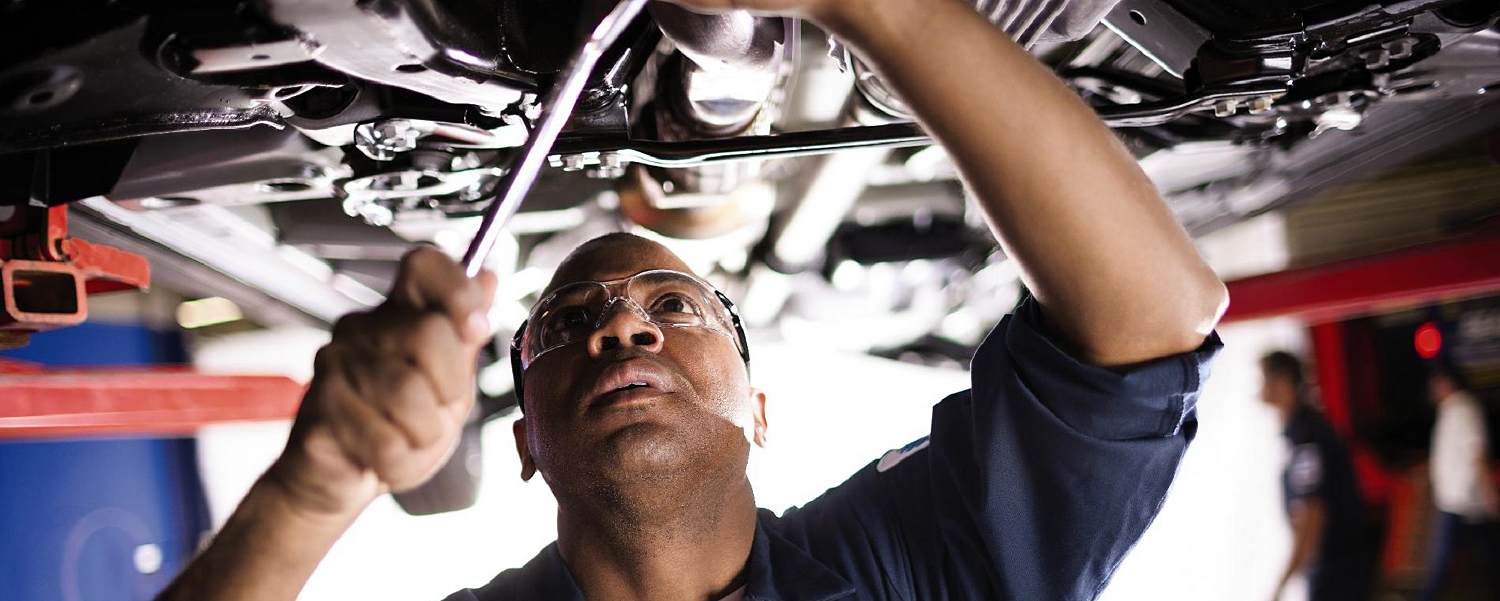 The Whole Kit and Car-Boodle
Just about any auto job requires sockets, wrenches, screwdrivers, sockets and more. Mechanic's tool sets with multiple pieces put the power of productivity in your hands by giving you a wide variety of handyman must-haves. Whether you need a socket while working under the hood or the right wrench when replacing a tire, tool sets are essential for working on any car.
shop all mechanic's tool sets
Top-Notch Torque
Torque wrenches offer maximum twist and turn. Having 1/2-inch, 1/4-inch and 3/8-inch drive options available can help you tighten any bolt from 25 to 250 ft. lbs. On certain areas like the tires, mechanics know exactly how tight the lug nuts need to be. If you're under the body and there is a hard-to-turn bolt, this wrench model can give you a forceful twist. With a torque wrench, you can tighten nuts and bolts to the perfect pressure.
shop all torque wrenches
Socket to Me
For hard-to-reach turns, utilize the length and ease-of-use of a top-notch socket set. Whether you need standard or metric sizes, a large socket collections helps any mechanic or DIYer get a project completed quickly. From standard 12-piece sets to extensive 299-piece sets, anyone working on an automobile can find a set with hex bits, torx bits, external torxs and standard sockets. All these pieces will come in handy for a variety of car tune-ups and upgrades.
shop all socket sets

Ratch It
A 36-tooth ratchet is the perfect sidekick for smaller tasks. Upgrade to a 75-tooth ratchet tool for a little more drive, or go all out for when the job needs maximum ratcheting with an 84-tooth model. A standard ratchet, regardless of tooth count, allows you to turn in only one direction. If you want to save time while doing repairs in tight spaces, consider three-way and five-way ratchet options. These models allow you to directly drive the tool in both turning directions.
shop all ratchets
Fill 'Er Up
Take on jobs big or small with gas and electric air compressors. Compressors pick up the power for a wide range of motor-related needs. Compressors typically range from 1.0-1.9 HP, which offer plenty of power to pump up your tires or operate pneumatic tools. Gas models offer convenient maneuverability, as they don't require cords. Electric compressors, on the other hand, require a power source but may be more economical based on your needs.
shop all air compressors
Get Some Air
If you're serious about fixing cars, air tools are essential for your workshop. An air impact wrench is great for fixing a timing belt on a front-wheel-drive vehicle. If you need to remove nuts and bolts, an air ratchet will spin a lot faster than your hands will, so you don't have to exert too much energy. There are also air saws for cutting through metal, pneumatic grinders for grinding metal, air hammers for smooth, fluid motions, muffler cutters for cutting off exhausts pipes and many more. The work goes faster with these efficient air tools, and it gets done right and tight.
shop all air tool sets
Turn it Around
Tap and die tool sets give you the simplest way to overcome damaged nuts, bolts and threads on your car. To use a tool and die set you'll first need to determine the treads per inch (TPI). Then, to create new threads, place the bolt into a vise to hold it as the wrench is turned over it. Place the die over the bolt and hold it horizontally. Start turning the wrench and the die will catch on the threads already cut into the bolt. This is a practical and affordable way to restore a variety of nuts and bolts on your car.
shop all tap and die sets
Weld It Well
Don't underestimate the power of thermal control while you're working on your ride. A solid welder is perfect for repairs, bodywork, fabrication and alteration. An electric model offers precision and power, but consider going cordless with a gas welder for more range of motion.
shop all welders
A Place for Everything
Keep track of every tool with tool storage solutions. Tool chest combos, rollaway chests and tool carts are perfect for garage and workshop organization. Use tool carries, roll-up pouches and toolboxes to keep essential devices in your car in case you need them on the road.
shop all tool storage
Breathe Life Into Threads
A thread restorer set lets you repair and restore your car's old, damaged and stripped threads on bolts and studs, whether they are internal or external. Typically, the thread file is a steel, four-sided bar with eight thread sizes cut into the body. Different bolts and studs may require different thread size. Once you have the right size lined up, gently stoke the threads like you're doing a filing job on a piece of metal - not too hard and not too soft. This DIY restoration is definitely a money-saver when fixing stripped threads.
shop all thread restorers
---
---
---